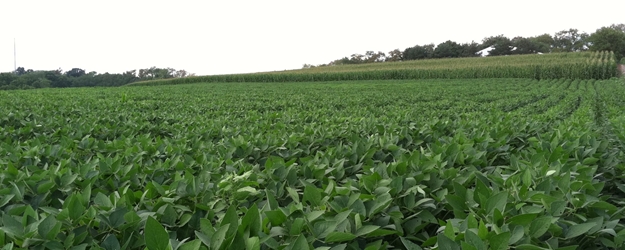 OILSEEDS: U.S. oilseed production for 2013/14 is projected at 96.2 million tons, down 4.7 million from last month mainly due to a lower soybean production forecast. Soybean production for 2013/14 is forecast at 3.255 billion bushels, down 165 million due to lower harvested area and yields. Harvested area is forecast at 76.4 million acres, down 0.5 million from the July projection. The first survey-based soybean yield forecast of 42.6 bushels per acre is 1.9 bushels below last month's projection but 3 bushels above last year's drought-reduced yield. Soybean supplies for 2013/14 are projected 5 percent below last month based on the lower production forecast. With reduced supplies and higher prices, U.S. soybean exports are reduced 65 million bushels to 1.385 billion. Lower U.S. exports will be mostly offset by increases for South America, especially Argentina. Soybean crush is also lowered as higher prices reduce prospective exports for soybean meal. Soybean ending stocks are projected at 220 million bushels, down 75 million from last month.
U.S. soybean balance sheet changes for 2012/13 include increased imports, reduced exports, and increased crush. Imports are raised 10 million bushels to 35 million based on strong shipments from South America. Exports are reduced 15 million to 1.315 billion bushels reflecting exceptionally low shipments in recent weeks and revised export data for September through December 2012 from the U.S. Department of Commerce. Crush is increased 25 million bushels to 1.685 billion to account for increased soybean meal exports. Soybean ending stocks are unchanged at 125 million bushels.
The U.S. season-average soybean price for 2013/14 is forecast at $10.35 to $12.35 per bushel, up 60 cents on both ends. Soybean meal prices are forecast at $305 to $345, up 15 dollars at the midpoint. Soybean oil prices are forecast at 44 to 48 cents per pound, down 3 cents at the midpoint reflecting the sharp drop in futures contract prices in the past month.
Global oilseed production for 2013/14 is projected at 493.1 million tons, up 0.2 million tons from last month. Reductions for soybeans and cottonseed are offset by increases for rapeseed, sunflowerseed, peanuts, and palm kernel production. Lower soybean production projected for the United States is partly offset by an increase for India where higher harvested area more than offsets reduced yields caused by excessive July rainfall. Rapeseed production is raised in several countries including Canada and the European Union, where abundant moisture and favorable temperatures in July helped to boost yield prospects. Rapeseed production forecasts are also raised for China and Ukraine. Sunflowerseed production is also raised for the European Union and Ukraine. Global peanut production is raised this month reflecting updated historical data and forecasts for several countries in Africa. Cottonseed changes include reduced production for China and the United States and an increase for Pakistan.
Reduced global soybean production is only partly offset by lower crush leaving 2013/14 global soybean ending stocks down 1.9 million tons at 72.3 million. Global soybean stocks remain record high despite this month's reduction.
..................................
Coverage, Analysis of the Aug. 12 USDA Reports
See all of the report data, coverage and analysis of the Aug. 12 World Agricultural Supply and Demand Estimates and Crop Production reports.