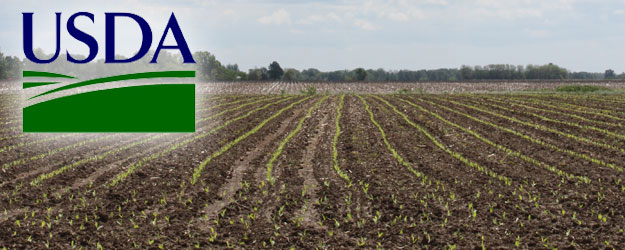 Beneficial weather this summer could mean record-large corn production. USDA's World Agricultural Supply and Demand Estimates (WASDE), released Friday, May 9, will provide the industry with its first official snapshot of the new-crop year. USDA will also be wrestling with reconciling old-crop balance sheets.
Friday's report will provide the first look at 2014-15 ending stocks of corn and soybeans. Allendale, a brokerage firm in McHenry, Ill., anticipates new-crop ending stocks of corn will be released at 1.788 billion bushels. The average trade estimate, however, is much lower at 1.672 billion bushels, with a range of estimates from 1.295 billion to 2.354 billion.
For new-crop calculations, Rich Nelson, director of research at Allendale, expects USDA to use March 31 planting intentions of 91.696 million acres and normal harvested acres of close to 92% as well as a below-trend yield of 162 acres, adjusted for this year's slow planting progress.
"If we look at current weather forecasts, though, (the actual) average corn yield could be above trend at 168 or 169 bu. per acre," says Nelson.
Using 167 bu. per acre as the average U.S. corn yield produces a corn crop of 14.081 billion bushels, well above the previous record high of 13.925 billion harvested last year.
The average trade estimate for old-crop corn ending stocks is 1.314 billion bushels, down slightly from April's 1.331 billion but substantially higher than the previous year's 821 million bushels.
"We expect USDA to increase old-crop corn exports, but do not expect changes to ethanol or feed use," says Nelson.
 
Old-Crop Beans Still an Issue
"The question on soybeans will be how USDA manages tight old-crop stocks," Nelson notes.
He expects USDA to tighten old-crop ending stocks to 129 million bushels, down from last month's estimated 135 million bushels, due to increased exports and crush. However, the decline will be partially offset by increased imports and lowered feed, seed, and residual use.
The average trade estimate for ending stocks of old-crop soybeans of 134 million bushels is only 1 million bushels lower than USDA's April's estimate. The range of estimates, however, stretches from 125 million to 174 million bushels.
USDA will use March 31 planting intentions of 81.493 acres for soybeans as a starting point for soybeans as well as normal harvested acreage of 98.7% and a trend yield of 45.2 bu. per acre. Allendale anticipates USDA to release its first estimate for the new-crop soybean carryout at 341 million bushels. The average trade estimate for new-crop soybean ending stocks is 307 million bushels, with a range of 200 million to 464 million.
"We don't expect the carryout to be burdensome just yet," says Nelson. " But we look for it to rise sharply with the June report when USDA increases acres and yield. It could move above 400 million bushels pretty quickly."
Allendale expects USDA to increase both corn and soybean acres in its Acreage report, slated for release June 30 at noon, EDT.
 
World Supply and Demand
No major changes are expected in world corn and soybean stocks. Allendale also does not expect USDA to adjust corn and soybean production in Brazil or Argentina.
"This report will be a good start for us to realize that new-crop supplies in the end will be bigger than originally expected," he adds.