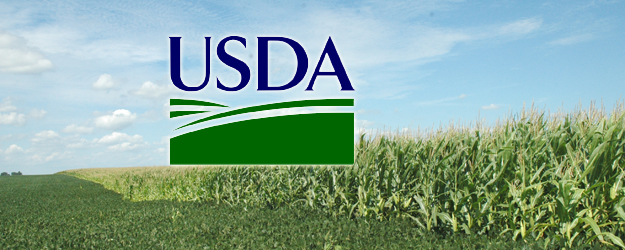 Everyone expected some big numbers today from corn farmers, and USDA's August World Agricultural Supply and Demand Estimates delivered. According to today's report, the corn production for 2014/2015 is projected to reach a record 14.032 billion bushels, with average yield of 167.4 bu. per acre.
Still, those numbers were lower than many expected, with some analysts expecting a crop forecast closer to 14.2 billion and yields in the 170-bu.-per-acre range.
But the grain markets and analysts were neither surprised nor offended. "I believe the USDA understandably took a cautious approach with this estimate, which will leave them room for adjustments as we move forward," Daniel Hueber of The Hueber Report told AgWeb. "Traditionally, large crops tend to become larger as we move into harvest, and seeing that the USDA was proactive in boosting the usage figures, the corn yield has room to be bumped higher without pushing the ending stocks figure much through the 2 billion bushels mark."
Jerry Gulke, president of The Gulke Group, agreed in an interview with Farm Journal Radio today. "We're in uncharted territory with these sort of yields," he said. The corn crop "looks good, but the government isn't about to put itself out there on a limb and then get it sawed off, because maybe we'll get a frost or so much water that we can't harvest it."
Part of the reason the markets weren't troubled by the strong supply of corn was that the WASDE report also noted growing demand for the commodity. "We're going to be feeding more animals, we may be exporting just as much, and we're going to be making more ethanol," Gulke said. "We're going to have a big solid crop ... [and] there will be plenty of corn to go around for everybody."
That level and diversity of demand also grabbed the attention of Hueber. "I have to believe the biggest surprises [in this report] came in the boost in the corn usage estimates," he told AgWeb. "For the 2013/14 crop year, ethanol usage was bumped up 45 million bushels and exports 20 million, reducing the ending stock by that 65 million. This alone ate up almost 38 percent of the increase in production with the higher yield and then the USDA boosted the projected usage for next year by 100 million bushels. The net result was an insignificant increase in the carryout of 7 million bushels, and the trade was fully expecting an increase of 200 million."

Markets like that. Unlike wheat and soybeans, corn prices actually moved upwards today, gaining nearly 2 cents to hit $3.584 per bu.
Listen to Gulke's full comments here:
Soybeans are also on pace for a record year, according to USDA. Today's report projected a historically high harvest of 3.816 billion bushels with estimated yields of 45.4 bu. per acre. That yield is also slightly below expectations, according to Allendale's Paul Georgy.
But the size of the crop is enough to put downward pressure on prices. Soybeans for September delivery opened at $11.092 per bu., dropping more than 14 cents to $10.942.
"Today's report solidifies the growing bearish outlook, not only in the U.S., but also in the world," Don Roose, president of U.S. Commodities Inc. in West Des Moines, Iowa, told Bloomberg today. "Soybeans are overvalued relative to the other grain markets and have the most downside price risk. We have burdensome supplies."
The wheat market found itself—unexpectedly—in a similar situation today. The recent darling of the grain markets slipped more than 8 cents today to $5.376 after the WASDE report dramatically raised production estimates. "The trade was expecting a 5 million [bushel] increase in winter wheat and was surprised by the 30 million [bushel] increase," noted Allendale's Georgy.
..................................
 
Complete Coverage of Aug. 12 USDA Reports
See the data, read the biggest news and listen to analysis of today's collection of major USDA reports.