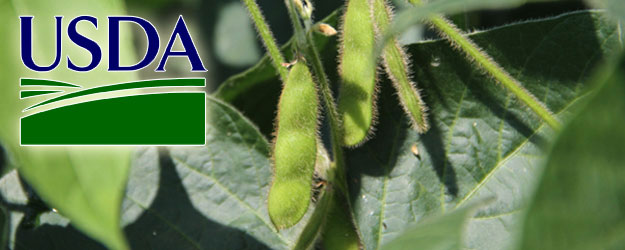 OILSEEDS:  U.S. oilseed production for 2014/15 is projected at 116.2 million tons, up 2.5 million from last month. Higher soybean production is only partly offset by reductions for peanuts and cottonseed. Soybean production is projected at a record 3,913 million bushels, up 97 million due to a higher yield forecast. Soybean exports are raised 25 million bushels to 1,700 million mainly due to increased supplies. Soybean crush is raised 15 million bushels to a record 1,770 million mostly on increased soybean meal exports, which are raised on record high new-crop export sales. Domestic use of soybean meal is raised in line with a small increase for 2013/14. Soybean ending stocks are projected at 475 million bushels which would be the highest since 2006/07.
Changes for 2013/14 include higher soybean exports and crush and reduced ending stocks. Exports are increased 5 million bushels to a record 1,645 million based on reported trade through July and indications from August export inspections. Crush is increased 5 million bushels to 1,730 million. Ending stocks are projected at 130 million bushels, down 10 million from last month. Other changes for 2013/14 include increased soybean meal imports and domestic disappearance, lower soybean meal exports, and increased soybean oil exports.
Soybean and product prices are all projected lower for 2014/15. The U.S. season-average soybean price is projected at $9.00 to $11.00 per bushel, down 35 cents on both ends of the range. Soybean meal prices are projected at $330 to $370 per short ton, down $10.00 on both ends of the range. Soybean oil prices are projected at 34 to 38 cents per pound, down 1 cent on both ends of the range.
Global oilseed production for 2014/15 is projected at a record 528.0 million tons, up 6.2 million from last month. Soybeans account for most of the change. In addition to the United States, projected soybean production is increased for Brazil and Argentina where relative prices favor soybeans over corn. Brazil soybean production is raised 3 million tons to 94 million and Argentina is raised 1 million tons to 55 million. Rapeseed production is raised for the EU reflecting exceptional weather across much of the northern producing areas. Mostly offsetting gains for the EU, rapeseed production for Canada is reduced to reflect lower yields reported by Statistics Canada. Other changes include higher sunflowerseed production for the EU, lower sunflowerseed production for Argentina and Bolivia, lower peanut production for China and India, higher India cottonseed production, and increased palm oil production for Malaysia.
Global oilseed trade for 2014/15 is raised 1.8 million tons to 134.0 million mainly reflecting soybean exports for the United States and Brazil. Soybean imports are raised 1 million tons for China to 74 million and for several other countries including the EU, Japan, and Vietnam. Global oilseed crush is projected higher on increased supplies and lower prices. Global oilseed stocks are projected higher mainly on higher soybean stocks in Argentina, Brazil, the United States, and China.
..................................
 
Click here to see complete coverage of the September 11 WASDE reports.
See the data, read the biggest news and listen to analysis of today's collection of major USDA reports.