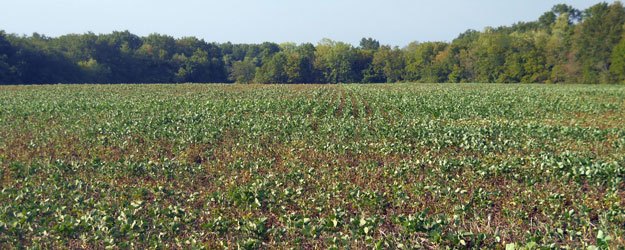 OILSEEDS: U.S. oilseed production for 2012/13 is projected at 88.2 million tons, up 6.2 million from last month. Soybean production is forecast at 2.860 billion bushels, up 226 million based on higher harvested area and yield. Harvested area is raised 1.1 million acres to 75.7 million. The soybean yield is projected at 37.8 bushels per acre, up 2.5. Soybean supplies for 2012/13 are projected 10 percent above last month on both increased production and beginning stocks.
Peanut and cottonseed production are also projected higher this month. U.S. soybean exports for 2012/13 are raised 210 million bushels to 1.265 billion reflecting increased supplies, lower prices, and the record pace of export sales through early October. Soybean crush is raised 40 million bushels to 1.540 billion mostly due to increased soybean meal exports and increased soybean supplies. Soybean crush is also supported by an increase in domestic disappearance of soybean oil which reflects the impact of the increase of the biodiesel mandate for 2013 recently announced by the Environmental Protection Agency.
Soybean ending stocks are projected at 130 million bushels, up 15 million from last month. Prices for soybeans and products are all reduced this month. The U.S. season-average soybean price range for 2012/13 is projected at $14.25 to $16.25 per bushel, down $0.75 on both ends of the range. The soybean meal price is projected at $470 to $500 per short ton, down $15 on both ends of the range. The soybean oil price range is projected at 53 to 57 cents per pound, down 1 cent on both ends. Global oilseed production for 2011/12 is projected at 457.7 million tons, up 4.6 million from last month as higher soybean and cottonseed production more than offset reduced rapeseed production. Global soybean production is projected at 264.3 million tons, up 6.2 million mostly due to an increase for the United States. A small increase for India soybean production is offset by a small reduction for Canada based on the latest survey information from Statistics Canada.
Rapeseed production is reduced for Canada based on lower yields reported in the most recent survey from Statistics Canada. Early excess moisture resulted in delayed planting which was followed by dry conditions and heat during flowering, leading to the lowest yields since 2007. Rapeseed production is also reduced for Australia. Other changes include increased cottonseed production for China, India, and Pakistan.
Revisions to the world 2012/13 oilseeds estimates include reduced soybean exports for Brazil and Argentina, increased soybean imports for China and Mexico, and increased soybean crush for Argentina, China, and Mexico. Lower rapeseed exports for Canada and Australia are partly offset by reduced imports for several countries including China, EU-27, Japan, and Mexico. Global oilseed stocks for 2012/13 are increased 3.6 million tons to 64 million. Soybeans account for most of the change, with higher stocks in Argentina, Brazil, China, and the United States.
---
Coverage, Analysis of the Oct. 11 USDA Reports
See all of the data, coverage and analysis of today's World Agricultural Supply and Demand Estimates and Crop Production reports.