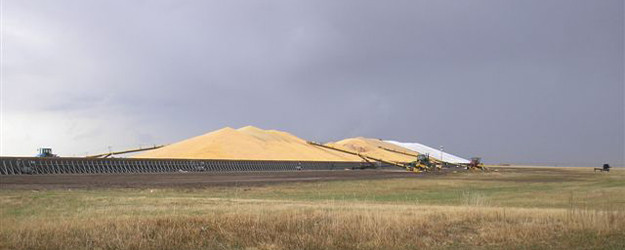 COARSE GRAINS: Projected 2012/13 U.S. corn ending stocks are unchanged this month as an increase in imports and lower exports support higher expected feed and residual disappearance. Corn imports are raised 25 million bushels reflecting the strong pace of shipments reported through January.
Corn exports are lowered 75 million bushels based on the slow pace of sales and shipments to date and stronger expected competition from South American corn and from competitively priced feed quality wheat. Feed and residual disappearance for corn is raised an offsetting 100 million bushels with continued expansion in poultry production and a 10-million-bushel reduction in projected sorghum feed and residual use.
Sorghum exports are projected 10 million bushels higher based on the strong pace of sales and shipments. Smaller trade changes are projected for barley and oats based on shipments to date.
The projected season-average farm prices for corn and sorghum are each lowered 20 cents on the high end of the range to $6.75 to $7.45 per bushel and $6.70 to $7.40 per bushel, respectively. The projected farm price ranges for barley and oats are narrowed 10 cents on each end to $6.25 to $6.55 per bushel and $3.70 to $3.90 per bushel, respectively.
Global coarse grain supplies for 2012/13 are projected 1.0 million tons lower with a 0.8-million-ton decrease in production. Corn production is lowered 0.5 million tons for Argentina reflecting extended dryness in February that reduced yield prospects, particularly for late-planted corn. South Africa corn production is reduced 0.5 million tons as dryness and heat reduce yield prospects in the western areas of the maize belt. Sorghum production is lowered 0.5 million tons for Australia as excessively high temperatures have reduced harvested area as indicated by the latest government estimates and yield prospects as confirmed by satellite imagery. India corn production is raised 0.4 million tons as planting progress reports for the winter crop indicate a year-to-year increase in area.
Global coarse grain exports for 2012/13 are lowered this month mostly reflecting the projected reduction in U.S. corn exports. World corn feed and residual use is raised with higher expected use in the United States. Corn feed use is also raised for India and Malaysia. Corn imports and feeding are lowered for South Korea with higher expected imports of feed quality wheat and increased wheat feeding. Sorghum imports and feeding are raised for Mexico with the increase in U.S. sorghum exports. Global coarse grain ending stocks decline 0.6 million tons with small reductions in corn stocks for Brazil, Malaysia, Argentina, and India.
 
…………………………
Coverage, Analysis of the March 8 USDA Reports
See all of the data, coverage and analysis of the WASDE and Crop Production reports.