EPA and activists have targeted Yakima Valley dairies. Are you next?
It's a case that could have far-reaching consequences for U.S. agriculture. And it makes Jay Gordon's blood boil.

Gordon is Washington State Dairy Federation's executive director and a dairy producer. In those roles, he's had a front-row seat to a two-year drama unfolding in the state's Yakima Valley. The players include the Environmental Protection Agency (EPA), two environmental activist groups, and four local dairies caught up in legal and regulatory troubles over alleged groundwater contamination. 

The drama centers on accusations that the dairies, through their manure management practices, violated federal law by allowing lagoons to leak and by over-applying manure nutrients to fields. That allegedly polluted groundwater and drinking wells with nitrates, causing a health risk to area residents. The plot thickened as the four dairies were hit with tough EPA enforcement actions and then environmental activist lawsuits.
---
Bonus Content
Web resources
---
Gordon is not surprised at the environmental groups' attack on dairies, although this time they're using a new tactic: the Resource Conservation and Recovery Act (RCRA), a federal law that regulates hazardous and industrial waste disposal and governs all municipal dumps.

What outrages Gordon is EPA's reliance on a disputed study to issue enforcement actions against the four dairies, a move that opened the door for the RCRA litigation.

"I was very disappointed that the full might, weight and effort of the EPA was put to an important task of finding good information, and then wasted on an unprofessional and unbelievably poorly done compendium of 'science,' " Gordon says.
Like the majority of Washington's dairies, the four Yakima Valley defendants have followed water-quality guidelines under existing state and federal oversight. They've invested millions of dollars in environmental compliance through nutrient management plans, says Gordon.

"These four dairies have been inspected numerous times over the years by state and federal agencies and never had an issue," he says. "They have a great track record of compliance. Now they're being told they're criminals."

Few dispute that Yakima Valley has a nitrate problem in its groundwater, and has for several decades. But opinions diverge over who's responsible and who should remedy the problem.
At issue is not only whether the dairies contributed to elevated nitrate levels in the area's groundwater—the controversial 2012 EPA study indicates they did—but, under the RCRA lawsuits, if they've engaged in "open dumping" of solid waste.
Cow Palace Dairy, a lawsuit defendant, stands out amid the orchards and vineyards of  Yakima Valley.
(Photo: Ross Courtney)
---

If a judge rules against the dairies, many believe the case will open a new chapter in which environmental activists and EPA can sue farmers based on fertilizer applications.

Farmers are worried "because what happens in Yakima could happen to them," says Debora Kristensen, the attorney representing the four dairies.
"The producers at issue here are all good actors—good management practices and involved in their communities," Kristensen says. "They are proactive in finding new technologies and techniques to help them manage their operations. They truly represent—and represent well—the industry. Thus, the lawsuits appear to be an attack on the dairy industry itself."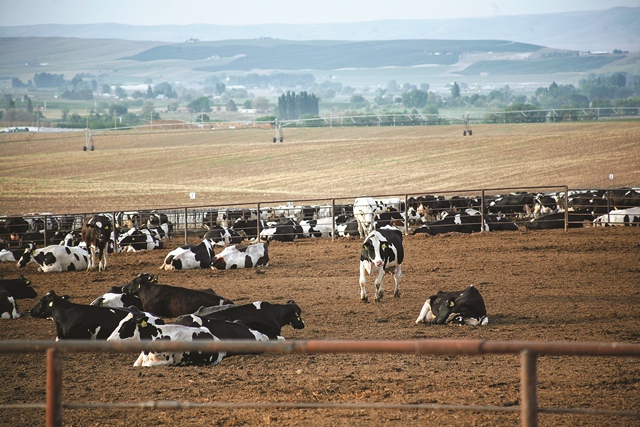 The Yakima Valley dairies are accused of dumping "solid waste" by over-applying manure nutrients to fields and contaminating area groundwater.
(Photo: Ross Courtney)
---
Driven by its belief that the four dairies caused the elevated nitrate levels in Yakima Valley drinking water, EPA entered into tough consent decrees with them in March 2013, under the Safe Drinking Water Act. They're now "the most highly regulated, watched and tested dairies in the country by the EPA," Kristensen says. "Under this scenario, it is hard to imagine how plaintiffs are going to prove that the dairies pose 'an imminent and substantial threat' to public health and safety."

But that's what Community Association for the Restoration of the Environment (CARE) and Center for Food Safety (CFS) intend to do.

The dairies in the lawsuit are: George & Margaret, LLC; Cow Palace, LLC; D&A Dairy, LLC; and H&S Bosma Dairy. (A fifth defendant settled out of court with CARE, reportedly paying $40,000 to the group.) Combined, the four defendants milk several thousand cows, but Kristensen says the number is confidential. Yakima Valley is home to 70 of the state's 420 dairies.

On Kristensen's advice, the dairies are not speaking publicly since litigation has moved into the deposition phase. But they're "frustrated," she says.

"They thought they were doing everything they were supposed to with EPA, only to turn around to face defending these citizens' suits," says Kristensen. "These cases are very expensive and time-consuming, yet each producer understands the significance of the cases and the potential impact on all agricultural operations nationwide."

The lawsuits will likely be heard early next year by U.S. District Court Judge Thomas Rice in Spokane, Wash. A ruling against the dairies would make them the first in the U.S. to be held liable under RCRA. The federal statute has not successfully been applied to any agricultural entity, Kristensen adds. Moreover, CARE and CFS have also filed new Notices of Intent to entities that receive nutrients from the dairies and apply them to fields and crops.

"Under this theory, the plaintiffs would have all row-croppers who receive nutrients from any animal source [held] potentially liable under RCRA," she says. "This is truly an expansive, and concerning, theory of liability."

For Gordon, that signals an ever-darker undertone. "This is a sad chapter in how we go about regulating people," he says. "It's disappointing to see good farmers hit with such poor science by a federal agency. You can be a good farmer, but if you're in the wrong place and in front of the wrong agency, you can find yourself sitting in a multi-million-dollar litigation episode."