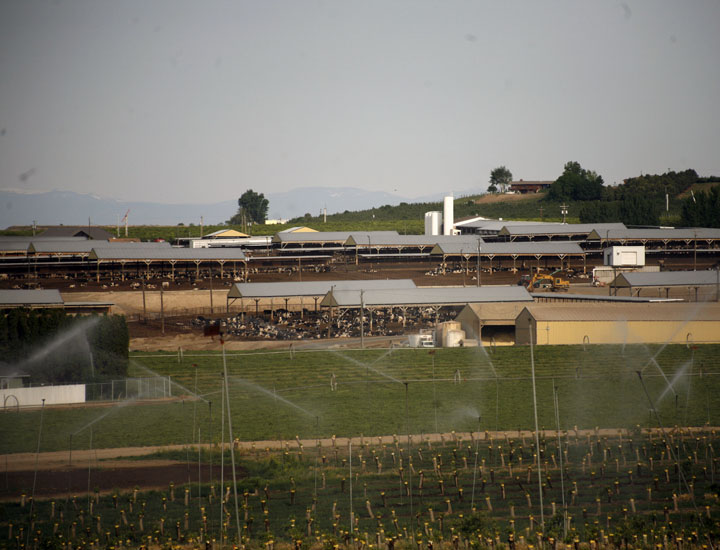 Judge rules that a Yakima Valley dairy's 'discarded' manure violates federal law as a 'solid waste.'
U.S. dairy leaders warn that a Jan. 14 ruling by a federal judge in Washington State could open a Pandora's box of litigation that could spread beyond the livestock sector.
U.S. District Judge Thomas O. Rice ruled that manure from a Yakima Valley dairy qualifies as "solid waste" under 1976's Resource Conservation and Recovery Act (RCRA) law. The 111-page decision is the first judicial ruling in the U.S. to consider manure, when improperly managed, a solid waste under federal law.
The ruling is a "potential fiasco" for agriculture, said Bob Gray, senior dairy policy adviser with Northeast Dairy Farmers Cooperatives. "It will have major legal implications for manure applications on cropland and storage across the country."
Rice found that Cow Palace LLC, one of Yakima Valley's largest dairies, is contributing to the high nitrate levels that are contaminating local groundwater through its manure application, storage and management. He ruled that manure that leaks from lagoons or is over-applied to fields is considered "discarded" as a solid waste. The manure pollution poses an "imminent and substantial endangerment" to the environment and to people who drink the water, and the dairy is liable for "open dumping," Rice said.
RCRA regulates solid and hazardous wastes through the U.S. Environmental Protection Agency. Livestock and agriculture defenders point out that RCRA's provisions don't apply to agricultural wastes that are "returned to the soil as fertilizers or soil conditioners."
They worry that even those who follow authorized agronomic plans could be held liable under the Yakima Valley precedent. Cow Palace has operated, under Washington state regulations, with a state-approved nutrient management plan since 1998.
"This case isn't about manure but about nitrogen," said Jay Gordon of the Washington State Dairy Federation. "The judge is saying National Resource Conservation Service standards across the U.S. are not good enough. He heavy-handedly disregarded the standards U.S. farmers have relied on for 70 years."
The case stems from a 2013 lawsuit by Community Association for the Restoration of the Environment (CARE) alleging RCRA violations at Cow Palace. The 11,000-cow, 800-acre operation in eastern Washington is owned by Bill and Adam Dolsen.
CARE accused Cow Palace of letting lagoons leak millions of gallons of manure each year, allowing nitrates to leach into groundwater. CARE also alleged that Cow Palace exceeded agronomic rates and over-applied manure nutrients to fields.
In his ruling, Rice denied Cow Palace's petition to dismiss the lawsuit and agreed with the plaintiffs' allegations. A March 23 trial will determine remedies and fines against Cow Palace. The court will also address whether the RCRA law applies to manure produced by cows on unlined soils. The dairy is expected to appeal the rulings.
Meanwhile, three other Yakima Valley dairies await decisions on comparable CARE lawsuits. Based on the Cow Palace ruling, dairy supporters say it's likely the court will rule similarly against those remaining dairy defendants.
"The lawsuits have dragged on for two years and, combined, have cost the dairy producers more than $2 million in legal fees," said Gray. 
Prior to the lawsuits, the four dairies were hit with tough EPA enforcement actions in March 2013. Believing the four dairies caused the elevated nitrate levels in Yakima Valley drinking water, EPA entered into tough consent decrees with them under the Safe Drinking Water Act. That made the dairies "the most highly regulated, watched and tested dairies in the country by the EPA," said attorney Deb Kristensen, who has been part of the dairies' defense team. 
The Yakima Valley is home to 70 of the state's 420 dairies.