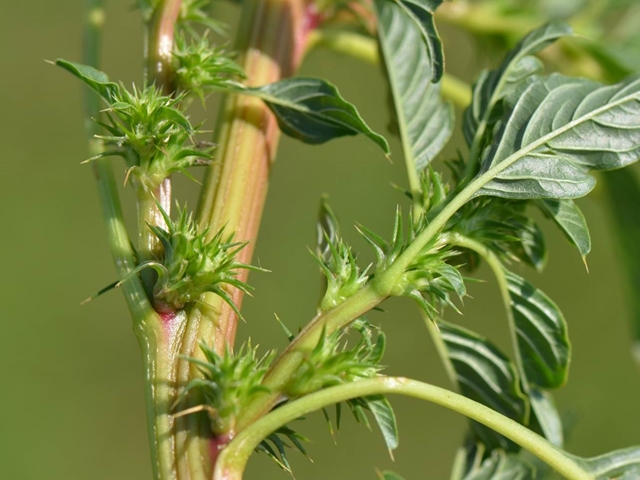 You or your neighbors could be unknowingly planting Palmer amaranth anywhere Conservation Reserve Program (CRP) mixes are grown or pollinator mixes are established. Palmer amaranth seed in CRP planting mixes have been identified in Illinois, Indiana, Iowa, Minnesota and Ohio. It could be in CRP mixes in other states, too, just not identified yet.
"We have no idea how many individual fields are infested, but we started with five counties in 2013 and now we're at 49," says Bob Hartzler, Iowa State University (ISU) Extension weed scientist. An estimated 23 counties are infested because of CRP mixes. "When you look specifically at fields with infested CRP plantings it's about 50 to 100 plants per acre."
This past year marked Minnesota's first Palmer amaranth discovery and it was in CRP native seed mixes. Palmer amaranth is considered a noxious weed in Minnesota, as well as Ohio and Delaware, which gives the state more authority to track it and make sure farmers eradicate the weed.
"There are 13 farm sites and 30 plantings within the two infected counties," says Jeff Gunsolus, University of Minnesota Extension weed 
scientist. "Known infestation is less than 200 acres, all associated with conservation planting."
Minnesota and Ohio name Palmer amaranth a prohibited seed. "We're in eradicate mode, removing the weed, getting rid of the seed and flaming to get rid of plants," Gunsolus adds.
The issue remains: Palmer amaranth is creeping into CRP seed mixes. Even if the state eradicates weeds currently present, the threat still looms.
"Iowa had considerably more CRP acres than any other state last year, up to 200,000 new acres, and that increase in demand for native seeds overwhelmed local seed producers," Hartzler says. "Because of our increased demand our local seed producers had to source out of state and that's where we think Palmer came in."
In a perfect world, native seed would be grown in the state it's needed. This would help ensure no outside grasses or forbs make their way in, but when demand exceeds expectation or unexpected weather events hurt seed production it might not be possible.
"Anything coming from Kansas, Arkansas—really any southern state that has Palmer is likely to bring it in," says Kevin Bradley, University of Missouri weed scientist. While Missouri hasn't identified Palmer in CRP planting specifically, weed scientists are on high alert.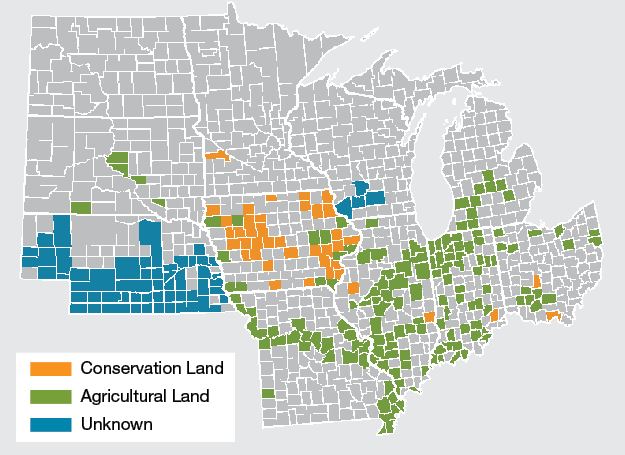 CRP mixes infested with Palmer amaranth is a tough issue to tackle. Palmer amaranth seeds can easily mimic other native seeds and growing CRP demand leads to outsourcing beyond company-only production.
In south-central Iowa, owner and operator of Prairie Seed Farms John Osenbaugh is tracking the Palmer issue closely. His 36-year-old company does 90% of its business providing CRP mixes and he knows one slip up could be destructive—not only to his business, but the farmers and landowners he works with, too.
"We raise some of our own seed and buy some from other growers, about 50/50," Osenbaugh says. Each seed bag is required to have certain information on the tag, and when they get seed from an outside grower they perform additional purity tests.
The same way the Federal Seed Act requires corn and soybean seed companies to label each seed bag, CRP seed providers are required to list the same information. Look for information including what species are in the bag, percent of pure seed, percent of weed seed present, percent inert matter and germination rate.
Federal labels don't require native seed providers to list what weed seeds are present, and that's one of the reasons Osenbaugh performs additional testing. "If we find pigweed seed we just have to assume it is Palmer amaranth even if we don't know," he says. "If a grower sends us something with pigweed, we reject it."
Right now it's hard to differentiate seeds from the 197 different pigweed species because there is no definitive DNA test, although researchers in Illinois have made progress. Seed companies and growers who provide native seed mixes have to rely on physical identification when checking seed lots for contamination.
This leaves room for error and can cause some native seed companies to spread Palmer with their seed mixes. "We haven't had any issues with Palmer amaranth in our seed mixes yet, and I would be cautious of companies that have," Osenbaugh says.
Use these tips to reduce your risk of Palmer amaranth infected CRP seed mixes. While it might not be possible to completely eradicate Palmer amaranth from getting into native seed mixes yet, there are precautions you can take to protect your farm.
"If you enroll in CRP you need to be out in those fields," says Aaron Hager, University of Illinois Extension weed scientist. "If you see a strange looking pigweed it's worth your while to get rid of it. We're also cautioning that just because you didn't see it in 2016, don't assume it won't be there in 2017."
Palmer amaranth seeds can live in soil for about four to five years without germinating, so you'll need to watch for them each year.
"We tell people to buy local and talk to the seed producer and ask them what they've done to ensure it's not contaminated," Hartzler says. "If you're really concerned, take a sample of seed and submit it to ISU seed testing lab to look for Palmer amaranth."
Just because the bag says 0.0% weed seed doesn't mean it's true, Hartzler adds. And because Palmer amaranth looks similar to some native forbs it could be beneficial do your own seed testing. 
Making the effort to buy locally from professional seedsmen can help ward off Palmer infestations.
"Buy from a professional seedsman who does rigorous testing," Osenbaugh says. "Ask them if any of their customers got Palmer from them."
Communication and making yourself more aware of what's coming on to your farm could be the difference between a clean field and Palmer amaranth that spreads across your farm.
"The question now is: How doesn't Palmer move? And the answer? We haven't found it," Hager says. Keep track of where and how Palmer amaranth is spreading in your state, have a plan each season for how you'll keep it out and what you'll do to eradicate if it gets in. 

Learn How to Identify Palmer Amaranth
Palmer amaranth is one of nearly 200 different pigweed species, and because they're all in the same family they tend to look very similar, particularly waterhemp. Use specific plant characteristics to positively identify the difference, and when in doubt call an expert.
"Look for long petioles on the leaves," says Kevin Bradley, University of Missouri Extension weed scientist. "Then combine petiole length with leaf shape to tell if it's Palmer or waterhemp."
It's harder to differentiate the two during early vegetative stages, but Palmer's petioles will be longer than its broad, diamond-shaped leaves, and waterhemp has short petioles with more elongated leaves.
When the seed head is present, female Palmer amaranth will have large, sharp bracts at the base of each flower and longer seed heads. Once Palmer amaranth gets seed heads, do all you can to destroy the seeds it creates without spreading them.