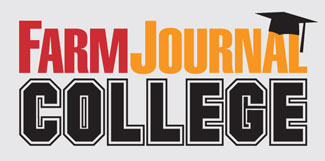 Listen to your soils and take the proper steps when considering installing tile
This past harvest, it wasn't uncommon to see combines and tractors outfitted with tracks instead of tires. The rather wet field conditions across the Midwest sparked coffee shop conversations amongst farmers on water. Water availability is often a tale of two extremes: either too much or too little.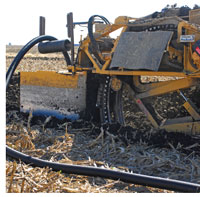 The higher the hydraulic conductivity, the easier it is for soil to pull water over longer distances or pull water up from a lower soil depth.
To maintain a happy medium, Isaac Ferrie addressed the topic of tiling during the 2014 Corn College.
Soils receiving the greatest benefit from tiling are those with seasonal high water tables that are at or near ground level, Ferrie says. On the other hand, soils with lower water tables will likely not benefit and can even "go backward" with tile. 

"If there are small hills and the field is pattern tiled, the problem can become exponentially worse as the tile will be deeper through the hills to hold grade," Ferrie says. "This drains a low water table even further when it might not have needed drainage to begin with."

One solution to is to contour tile these areas. Contour tiling keeps tile at a constant depth while working up the sides and around the topography changes. If you choose to pattern tile a field with large variations in elevation, Ferrie recommends switching to non-perforated tiling while going through the hills.

"Before tiling you need to know your soil characteristics, depth of soil profile and the hydraulic conductivity, the ease with which a liquid can move through soil," Ferrie adds. The higher the hydraulic conductivity, the further apart you can space the tile because the soil will pull the water to the tile. 

Knowing the hydraulic conductivity and acre amounts of each soil type allows you to pick a tile depth and spacing that best fits the majority of the field.

Ferrie advises the following steps when considering tile:
1. Evaluate the topography of your fields to determine whether contour or pattern tiling will best fit. Use accurate GPS planting or harvest maps to view elevation.  

2. Consider existing mains and outlets. Shallow tile and narrow spacing will move large amounts of water in a short period of time. To accommodate the large fluctuation in water flow, make sure you have adequate-sized mains. Deeper tile with wide spacing will eventually move more water than shallower, narrow tile but will do so over a longer period of time, creating less fluctuation in tile flow. If you're mains are undersized or you have concerns about your tile outlets, go with the deeper tile with wider spacing.     

3. To explore soil survey data from across most of the U.S., visit casoil resource.lawr.ucdavis.edu/gmap/. The interactive map allows you to view the entire soil profile, hydraulic conductivity, drainability and a soil's ability to pull water from the profile.

4. Consider installing tile gates. Tile gates hold back water in the winter, releasing enough that it dries out for planting, and then you can close the gates. During the growing season, pull the gates and drop the water table so the water remains just below the rooting depth of the crop. This allows you to maintain an adequate amount of soil moisture without having roots growing in a completely saturated zone. 
To learn more about water management and tiling, watch Season 5, Episode 7 of "Corn College TV" at www.FarmJournal.com/corncollegetv
---
Register Today to Attend Farm Journal Winter Colleges
Experience hands-on, cutting-edge events that will increase your yields and profitability for years to come. These events are led by Farm Journal Field Agronomist Ken Ferrie, Farm Journal Associate Field Agronomist Missy Bauer and other experts. Register today to set the course to boost your yields and bottom line. 

Planter Clinic
Jan. 6, Memphis, Tenn.
Jan. 9, Indianapolis, Ind. 
Join Farm Journal Associate Field Agronomist Missy Bauer to learn how to get your crop off to a strong start. Topics will include stand identification, evaluating the soundness of your planter and technology you can apply to your planter and fields.

Corn and Soybean College in the South
Jan. 7, Memphis, Tenn.
Farm Journal Associate Agronomist Missy Bauer will walk through the Systems Approach to crop production. She will share in-field data to help increase bushels and better manage corn and soybean growth and development, soil density and soil fertility. 

Farm Journal Test Plots Research Results
Feb. 3, Heyworth, Ill.
Feb. 17, Ames, Iowa
For the first time, Farm Journal offers a direct look into our Test Plots program, bringing you the latest data to help you increase yields. Farm Journal Field Agronomist Ken Ferrie will share cutting-edge research on technology and agronomic practices.

Nutrient Management College
Feb. 4, Heyworth, Ill.
Feb. 18, Ames, Iowa
With low commodity prices, it's time to manage your soil fertility programs. Led by Farm Journal Field Agronomist Ken Ferrie, topics will range from the fundamentals to a well-rounded nutrient program to identifying costs that can be cut without compromising yield.

Wheat College
Feb. 24, Manhattan, Kan.
High-yield wheat expert Phil Needham will highlight tips farmers can take straight to the field to increase wheat yields. Topics will range from fertilizer management and nitrogen use to new technologies and disease management techniques.

Wheat and Soybean College
March 3, Coldwater, Mich.
Join us for training on the fundamentals for high-yield wheat and soybeans. Learn more about growth stages, fertilizer management, nitrogen, and disease, insect and growth regulators. This event will focus on practical tips that will enhance your production skills to increase your bottom line.