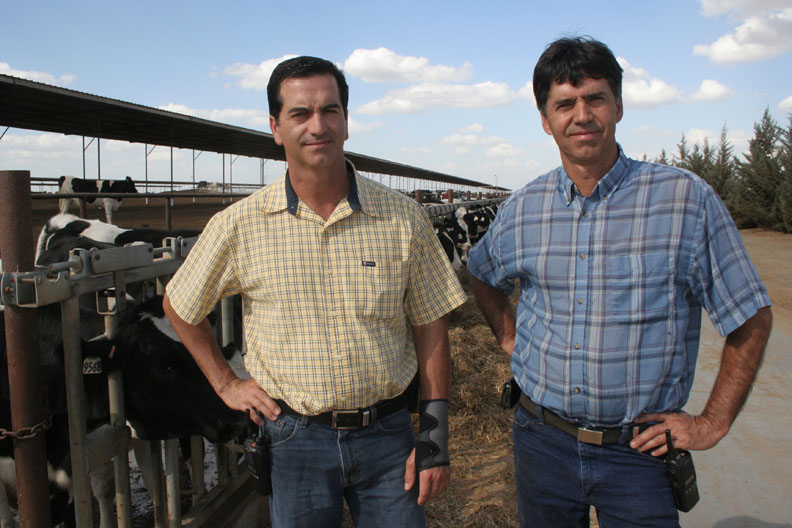 Despite drought and record forage prices, California boosts milk output.
Dairy producer Mike Monteiro spent nearly $1 million late last year to drill three new wells on his 2,500-acre farm near Hanford, Calif. Two consecutive years of drought, in 2012 and 2013, had reduced the corn silage crop that feeds his herds, persuading him to make the capital expenditure.
Now, with California in its third year of drought, he's glad he did.

"With the three wells, we'll have enough water to plant normally," Monteiro says. "But we're going to have to spend a lot of money on the cost of pumping that water."
---
Bonus Content
More on California's drought
---
At 900' below ground, the new wells will draw up water from far deeper levels than Monteiro is accustomed to. Groundwater depth, electricity costs and wear and tear on equipment will increase his water costs by 50% to 60%.

Like most dairies in the nation's No. 1 milk shed, the Monteiros will depend on groundwater to irrigate their crops this year. While March rain and snow storms slightly increased California's mountain snowpack, which feeds the state's massive surface water delivery systems, they did not break the drought's three-year grip.

Reservoirs, rainfall totals and the snowpack remain critically low, according to the California Department of Water Resources. Of the two major surface water suppliers, the federal Central Valley Project remains at zero allocations, while the State Water Project increased its water contract allocations from zero to only 5% on April 18.

That means farmers, ranchers and dairies are facing significant water shortages. Substantial amounts of farmland are expected to go unplanted in 2014. How much, however, remains uncertain. California typically accounts for some 8 million acres of irrigated farmland, and some estimates project that at least 10%, or 800,000 acres, will lie fallow in the Golden State this year. 

USDA forecasts significant production cuts for several California crops in its March 31 Prospective Plantings report. Dave Kranz, with the California Farm Bureau Federation, says those California reductions include a 28% drop in corn for silage, a 35% cutback in cotton, a 20% decrease in rice and a 15% decline in wheat. In addition, some farmers have been pulling out older almond trees as a way to deal with the year's water shortages.
Impassioned signs like these along Interstate 5 between Fresno, Calif., and Bakersfield, Calif., have become common since the drought began in 2012.
---
Even so, Monteiro says it's "business as usual" on his family's dairy operation. The third-generation business milks 7,000 cows on three dairies and raises 7,000 replacements in California's San Joaquin Valley. Like dairy producers across the U.S., he's upbeat about milk prices, which have hit record highs of $22 per cwt. and higher this year.

Those price levels spurred California's dairies to increase milk production in March by a whopping 5.3% over year-earlier levels.

Milk output rose to 3.402 billion pounds for the month. That's nearly 1.3 billion pounds more for the month than second-place Wisconsin produced during the same period. California's milk production per cow grew to 1,910 lb., up from 1,815 lb. a year earlier.

At the same time, Monteiro is glad to see some softening in input costs. Prices for rolled corn, a major feed ration component, have dropped to $210 to $240 per ton, down from $320 two years ago.

Other feed commodities, however, are becoming more expensive. The Monteiros grow their own silages but purchase most of their alfalfa hay. In early April, they were paying $330 a ton for alfalfa hay, up from $280 earlier this year. Alfalfa hay prices continue to climb to record levels on expectations that water shortages will limit crop quality and availability.

Wheat silage has soared to $65 to $70 per ton. Corn silage, a major dairy feed expected to be in limited supply, will be "very expensive," adds Joel Karlin, commodity manager and market analyst for Western Milling in Goshen, Calif. The crop was just getting planted in mid-April. "We've still got a way to go, but prices likely will be up there with wheat at $65 to $70 a ton," Karlin says.

Almond hulls, another commodity California dairy producers add to rations, also have risen in price, to about $190 per ton, up from $145 last fall. Monteiro says almonds' price increase is not so much because of the drought as it is the spectacular worldwide demand for the nut and the strong profitability among California's almond growers. In fact, land values in his area have surged to $18,000 per acre, up from $12,000 two years ago, largely on demand for ground to plant trees.

Despite those commodity price increases, Monteiro's outlook is positive. "The [dairy] recession and the drought have caused us to do a better job," he says. "Our dairies are full of cows, we're going to harvest our crops, and we're rolling forward."

But not all California dairies are faring as well. Despite record-high milk prices, good weather and increased milk production, many are still reeling from the downturn that's lingered since 2009.

"A lot of dairies are not financially strong and can't afford to drill wells," Monteiro says. "Many are still tight and catching up on debt. Many will make some money this year, but they will not be moving forward."