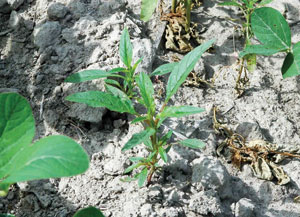 Stubborn weed exhibits more resistance in Midwest
Perfect, weed-free soybean fields were an exception rather than the rule this growing season. By late summer, many fields across the Midwest had one weed in particular—waterhemp—topping the crop. Farmers are being urged to evaluate their fields now to get the problem in check for 2012.

"Waterhemp broke loose this year," says Dan Westberg, BASF technical market manager. "Some parts of the Midwest, such as Illinois and Missouri, are on the cusp of experiencing problems similar to what the Mississippi Delta has seen with Palmer amaranth."

Chuck Foresman, manager of weed resistance strategies for Syngenta Crop Protection, says low-lying wet spots in fields offer clues to weed shifts. "I'm finding waterhemp filling many of those drowned-out areas instead of the grasses and morningglories we once saw," he says.

Reports that waterhemp populations were surviving glyphosate applications made in late June and early July didn't surprise Aaron Hager, University of Illinois weed scientist. Although there are numerous reasons herbicide applications might fail to control weeds, the possibility of resistant biotypes in the field is growing, he says.

"The most common scenario is having a 'noticeable' percentage of plants survive after applying glyphosate in soybeans [at rates from 0.75 lb. to 1.5 lb. acid equivalent or ae per acre]. Many producers said that within seven to 10 days after glyphosate was applied, it was obvious the waterhemp plants would survive," Hager says.

"In some instances, it appears that survival could be attributable to an application rate too low for the size of plants, rainfall too soon after the application or poor coverage on the target vegetation. In other instances, the best explanation appears to be the evolution of a glyphosate-resistant population," he says.

More than one type of herbicide resistance may be present in a field. Hager says Illinois surveys in 2010 found that a third of glyphosate-resistant waterhemp populations also demonstrated resistance to PPO inhibitors and virtually all were resistant to ALS inhibitors. Common waterhemp has also exhibited resistance to triazines and HPPD inhibitors in Illinois and other states.

"The data suggests the occurrence of multiple resistant waterhemp will continue to increase," Hager says.

Westberg urges growers to record problem areas during harvest this fall. "This is a weed that requires an integrated system approach to control," he says. "Multiple sites of action, crop
rotation and soil residual herbicides are keys to keeping waterhemp confused enough so we can continue to control it chemically.

"Once waterhemp gets some size, there aren't good control options in soybeans. Growers may need to consider hand removal prior to seed set, as we are seeing in the South with Palmer amaranth," Westberg adds.

Female waterhemp plants can produce in excess of 1 million seeds per plant. "Equipment—particularly combines and tillage tools—can efficiently spread seeds of a resistant population from one field to another," Westberg says. "Consider harvesting heavily infested fields last or cutting around problem areas."
---
Is It Resistant?
Not every waterhemp plant that survives an application of glyphosate is resistant to it. University of Illinois weed scientist Aaron Hager says a combination of factors should lead you to suspect that a waterhemp population is indeed glyphosate-resistant:
The appropriate rate of glyphosate (plus proper adjuvants) was applied at the appropriate weed growth stage.
Environmental conditions during and after application were conducive to glyphosate activity.
Plants that survived the glyphosate application are found next to plants that were controlled.
The field has a history of glyphosate use.