Sometimes a little creativity – and a can-do spirit – can turn lemons into lemonade. Just ask the folks heading up the Deer Creek-Sugar Creek Watershed conservation bus tour, slated for August 20.
The tour is available for farmers to join in-person, though seating is limited on the bus due to Covid-19 social distancing guidelines in the state.
So, to extend participation in the event, the watershed plans to offer a you-are-there video of the tour that farmers can watch post-event.
"We are working with Purdue University staff to shoot and edit the video for us to post on our website and YouTube," says Rhonda Hicks, administrative assistant, Carroll County Soil and Water Conservation District (SWCD).
Hicks says the tour involves three stops during the day, with farmers and SWCD staff speaking on a variety of conservation topics at each one. Topics to be addressed include cover crops, nutrient management, waterways with structures, rotational grazing and stream crossing/access control. Here's the program overview.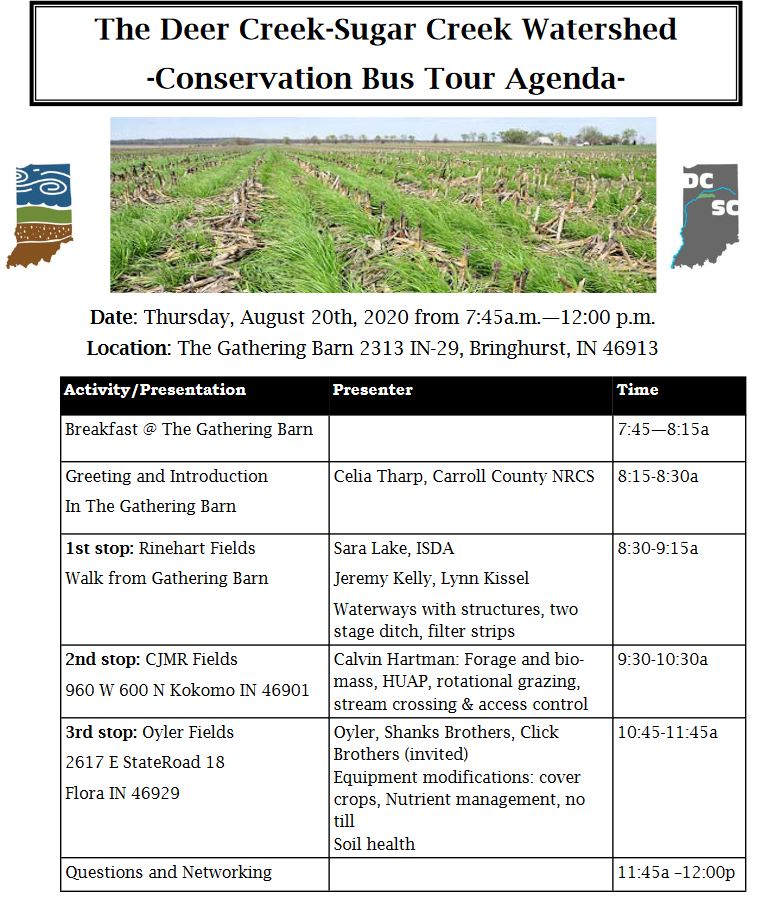 Hicks says the tour fulfills one of the watershed's grant requirements, per the Indiana Department of Environmental Management 319 Agriculture Cost-Share Program. The Deer Creek-Sugar Creek Watershed, which covers five Indiana counties, includes drainages of three tributaries to the Wabash River: Deer Creek, Sugar Creek, and Buck Creek.
More information about the tour is available at www.dcscwatershed.org