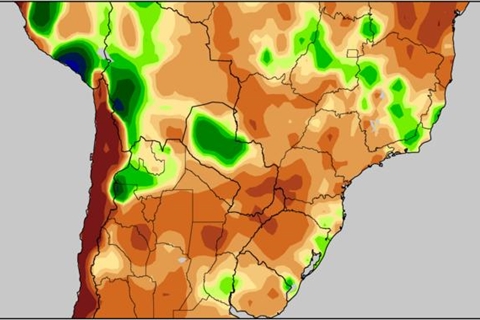 Extreme weather has caused record losses in South American corn and soybeans, according to Brazilian and Argentine government grain agencies.
In Brazil, expected corn production was slashed 4.7 MT, from 84.7 MMT to 80 MMT by Conab, the government grain agency. Soybean production estimates also were cut from 99 MMT to 96.9 MMT.
In Argentina, a record 1.6 million hectares have been lost because of a combination of rain, hail and drought, the Buenos Aires Grain Exchange said.  Production was forecast at 55 MMT, according to a May 6 report from Argentine agency.
The adverse weather could have a significant impact on global supplies because Argentina is the world's top exporter of soybean meal and Brazil is a major corn and soybean producer.
The decrease in South American crops could impact the market, but "it depends on how much is (already) dialed in," said Don Roose of U.S. Commodities. "It's not a shocker," he said. It might take a drought in the Midwest to move markets, he added.
"We've got the cheapest corn in the world. We've got China taking advantage of prices and selling off reserve stocks," he said.