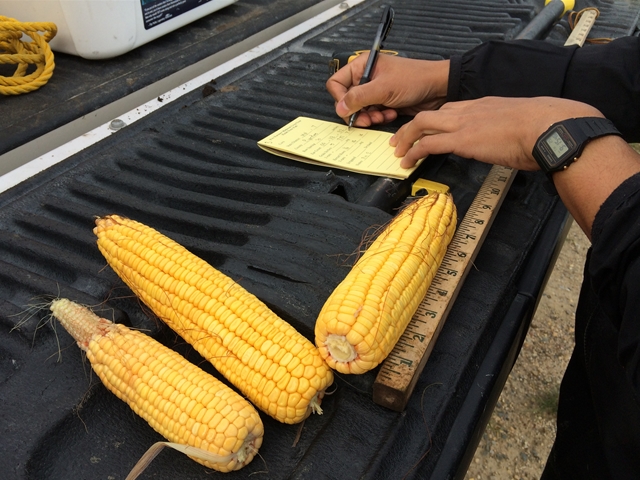 After being the garden spot of 2015, with bin-busting yield checks in field after field, Minnesota might have to give up its status as the overachiever in this year's Pro Farmer Midwest Crop Tour.
"It's a good crop, but it's not an over-the-top crop like last year's was," said crop scout Roger Cerven, who scouted fields in southwest Minnesota on Thursday.
Data collected by scouts and released by Pro Farmer Thursday night in Rochester agreed. According to Pro Farmer, the average rough yield for Minnesota was 182.32 bushels per acre. That's  8 bushels below the 2015 figure of 190.87 bushels per acre.
It's also two bushels lower than USDA's August estimate of a statewide yield of 184 bushels per acre.
"Minnesota is nowhere close to where it was last year," said scout Dick Overby, who farms in Kenyon, Minn. USDA "is going to have a drop a few more bushels on that before that's through."
Many scouts agreed after seeing the pollination problems in the fields: tipback, poor pollination, and zipper ears. "They had cold and wet weather, uneven emergence, and then major heat," said Cerven, whose 13-stop route had an average corn yield of 193.94, which was higher than many others.
For example, scout Tony Mellenthin's Minnesota route had a rough average corn yield of 176 bpa. "Kernel depth was shallow compared to Iowa and Nebraska," said Mellenthin, whose route also revealed the impact of severe weather like hail and high winds on Minnesota fields.
"We saw hail damage that is going to limit the top end," he said. "In Goodhue County, we had a field with green snap with an 87 ear count and 115 bpa. If it wasn't for that, it would have been 200 bushel corn."
That was his route's lowest yield of the day. The highest? A 221.3, also in Goodhue County. "It seems like the luck of the draw, depending on where your field was in Goodhue County."
Scouts also found the soybean crop underwhelming. "Our  beans in Iowa are too tall, but these in Minnesota are short," said Cerven, who had an average 3' x 3' pod count of 1,008.5 across 13 stops. "They were a little disappointing. I wonder about their planting dates."
That's just below the Pro Farmer average of 1,107.6 and about level with last year's figure of 1,119.22 pods in a 3' x 3' square. 
Like corn, rainy weather may have been a challenge. While soybeans require timely rains in August for podfilling, too much rain can be a bad thing as well. "We saw patches of standing water and the effects of standing water through the year," Cerven said. "They have definitely battled some issues through the year."
Crop Tour scouts shared some of their findings on Twitter as they moved through Minnesota. Here is a sampling of what they saw.
8 stops through Southern Minnesota (District 8). Average 171 bpa and 962 pods. #DreamTeam #pftour16

— Tony McDonald (@McDonaldTony) August 25, 2016
After 8 stops on western, minnesota, faribault, waseca and steel county, 179 avg and 1246 pods avg

#pftour16

— Santi Manfredi (@Skull23h) August 25, 2016
#pftour16 nice pod counts in Minnesota so far. Narrow rows winning. pic.twitter.com/44vJ1KxEt1

— Pam Smith (@PamSmithDTN) August 25, 2016
Early #Minnesota #pftour16 Samples showing Promise, Signs of Weather Damage | https://t.co/KznxCL5PSz https://t.co/bobo4exd6b

— Farm Journal (@FarmJournal) August 25, 2016