Watch to see how these weather factors unfold in early 2020
Several major weather forces will battle over the next few months to determine winter's bite in farm country. 
The bulk of Midwest should see average temperatures through the first part of the year, according to long-range forecast from the National Weather Service.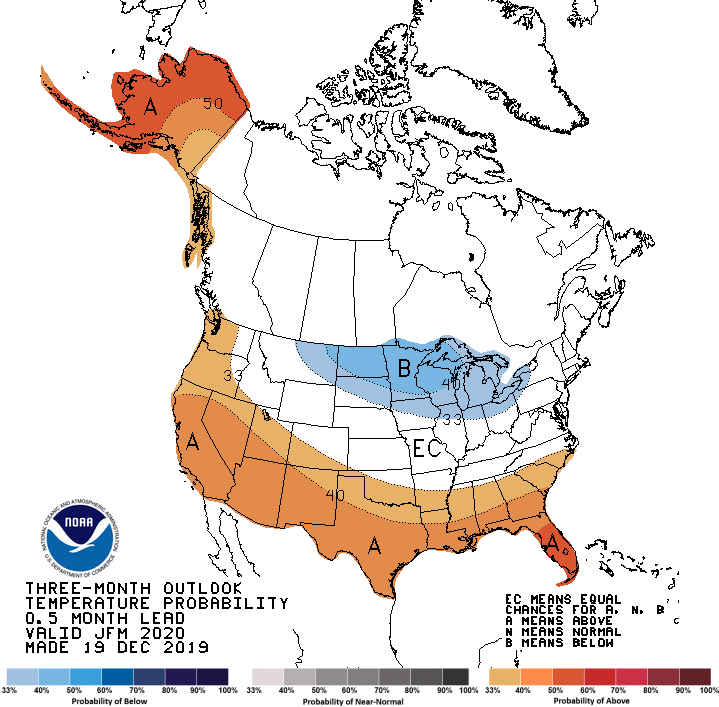 "Shots of cold will most likely occur, and they'll be potent in probably late December, early January, and then again in March," says Drew Lerner, founder, president and senior agricultural meteorologist of Weather World, Inc. "We could see some pretty impressive cold," 
Lerner says the shots of brutally cold air won't be constant. He thinks warmups in between will give people a break from below-normal temperatures this winter. However, a break from the cold also means more moisture in the forecast.
Precipitation looks to be higher than normal for the eastern Corn Belt, per the National Weather Service.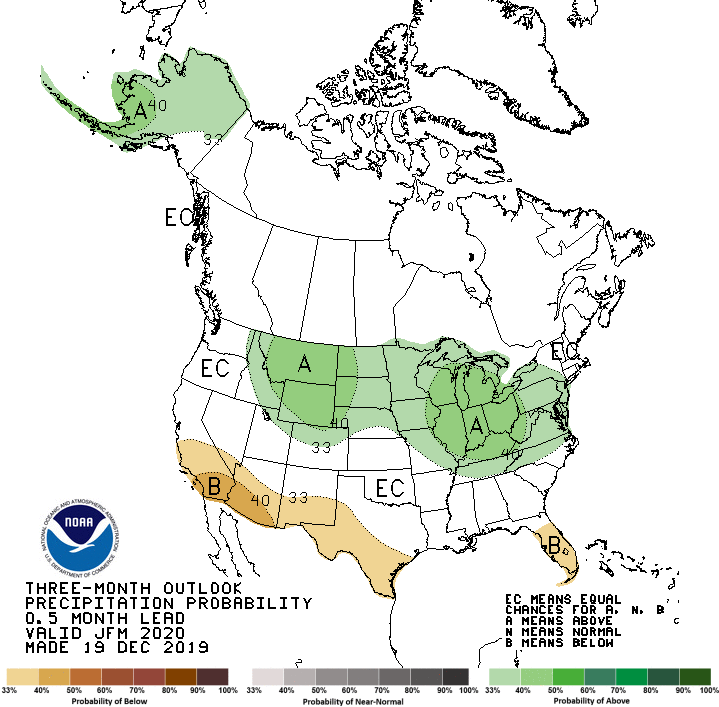 "For the winter precipitation, I would lean toward below-normal moisture over most of the Corn Belt, except the eastern part," says Mike Hoffman, AgDay meteorologist. "I would lean toward above normal precipitation across the South and most of the East from the southern Great Lakes to the East Coast."
Lerner says the 2020 winter months could be a mirror to 2019. He's also concerned the similarity in patterns may spill over into spring.
"We're going to have a cool long winter, and we are going to have enough precipitation around that we are going to keep the ground fairly saturated," Lerner says. "The spring itself probably looks a little bit like last year, not nearly the intensity of storm systems and their frequency will be a little bit lighter, but it's still going to be near to above-average precipitation through a fair amount of the Midwest as we go through the spring."
USDA meteorologist Brad Rippey thinks the excess moisture in soils, combined with continuous moisture this winter, is not just a concern for field work, but flooding.
"It really does look like another spring of planting delays and flooding, especially throughout the upper Mississippi basin and parts of the Missouri basin as well," Rippey says. "I don't want to quite get out there and say a repeat of 2019, but certainly heading this spring, it does not bode well for upper Midwestern fieldwork."
Overall, this year will be challenging to predict, says Eric Snodgrass, principal atmospheric scientist for Nutrien Ag Solutions. 
"We don't have a true El Niño or La Niña happening," Snodgrass says. "A lot of meteorologists want to provide a long-range forecast, but we are playing our cards close to our chest because nothing is very dominant."
Instead, weather experts are keeping their eyes on ocean temperatures and other key weather patterns. 
Factors Shaping Winter Weather Patterns
1. Strong Indian Ocean Dipole. This pattern has been the dominant factor through the fall months, Snodgrass says. "It's almost like having a El Nino/La Nina in the Indian Ocean," he says. "It should be over by January."
2. Warm water in the North Pacific Ocean. "The warmer-than-normal water in the northeast Pacific will likely control our weather patterns overall," Hoffman says. "This typically leads to cold air dropping southward into the U.S. more often than not."
3. Low Chukchi Sea ice. This warm Pacific Ocean is coupled with the lowest sea ice in the Chukchi Sea ever measured, Snodgrass says. "When it is ice-free up there and it's warm in the North Pacific, the jet stream just goes there," he says. "This is the reason we didn't get a fall in the Midwest and went from summer to winter so quickly."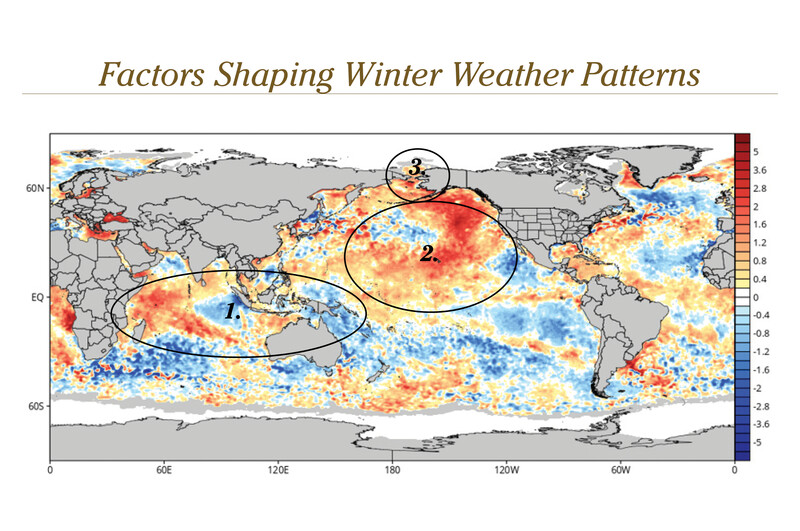 Read More
Mother Nature to Provide Few Spring Field Work Windows Again in 2020