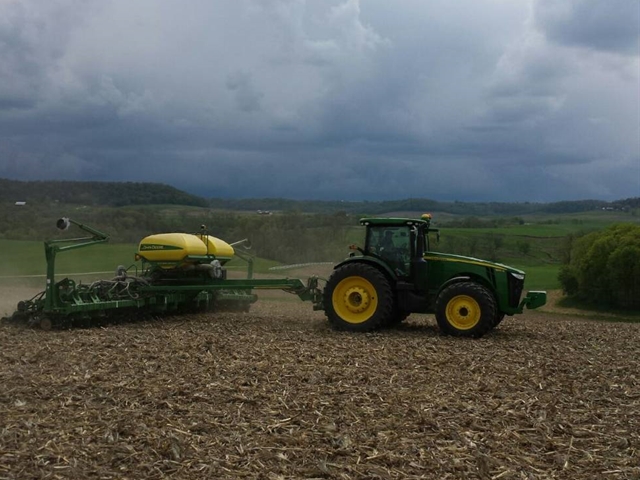 The 2015 winter is one to remember. While the winter season had a delayed start for much of the U.S., temperatures and precipitation are now rivaling 2014's records. Boston experienced its second-coldest February on record, but as far as snowfall, Mother Nature has proved to be relentless. Residents are still shoveling out of mounds of snow, as February's snowfall was a record-setter.
The Northwest, however, has been in an opposite weather pattern. Seattle even set a record for all-time warmest February with an average temperature of 48.8 degrees. That slightly tops 1977's record of 48.7.
U.S. Farm Report meteorologist Mike Hoffman expects much of the U.S. to continue in this pattern, with the East continuing to be wetter than normal, and the West, dry. Hoffman says that could cause another delayed start to planting for many in the Corn Belt.
"Below normal temperatures still expected for most of the Plains into the Northeast and Great Lakes, near normal in the Southeast," says Hoffman.
The one area he sees being above normal is the same we've seen all winter: the West and Pacific Northwest.
April, however, may be friendlier to the East, but Hoffman thinks much of the Corn Belt will be plagued with more colder than normal temperatures.
"April then will shrink the below normal area," says Hoffman. "I do not think the Plains states will be way below, but they will stay below normal, normal in the East and above normal in Northwest."
Hoffman says it's not until May that most of the U.S. may finally get back in a normal weather pattern.  
"May temperatures, though, I took out all the below normal temperatures," says Hoffman. "Above normal in the Northern Plains and in the West, and the Southeast and mid-Atlantic. I think it will be near normal for most of the Corn Belt."
Hoffman sees precipitation to be near normal for most of the Corn Belt and portions of the West, including California. But Hoffman is concerned about North and South Dakota's lack of rain and snowfall.
"Here's why I am a little concerned about the Northern Plains, I'm expecting below normal precipitation there, but I think precipitation will be above normal in the Southeast then also most of the central portions of the Rockies," he says.