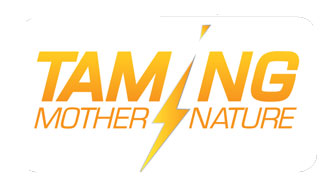 The deck's stacked so far, but one big trump is still in play
The corn and soybean crops left standing are barreling toward a record-breaking finish. Is there anything left in the way to stop them?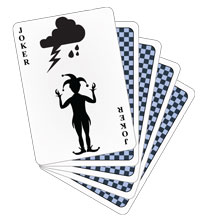 By October, a strong case can be made that there's really just one wildcard left in the deck—the specter of an early frost. 

"Outside of localized pest or disease issues, the last major risk appears to be an early frost," says Marc Schober on his Farmland Forecast blog. "The 2014 corn crop in particular is behind schedule maturing, which positions the risk of frost higher than normal. On average, the first major frost occurs in early October across much of the Corn Belt."

Averages aside, early frost is a possibility every year. This year did bring farmers a moderate scare in early 
September, as nine states throughout the upper Midwest and Great Plains got brushed with a light frost. The Midwestern Regional Climate Center (MRCC) recorded overnight temperatures of 32°F or less in states including Kansas, Nebraska, South Dakota, North Dakota, Minnesota, Iowa, Illinois, Wisconsin and Michigan.

The markets barely flinched at the news, but more than a few farmers took to AgWeb to share their observations on Crop Comments.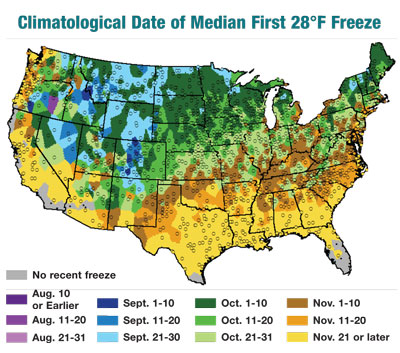 Each year is different, but on average, most of the Corn Belt won't see its first fall frost until October, while the Cotton Belt typically holds out until November.
"By 5:30 Saturday morning [Sept. 13], it was 25°F, and at 7 a.m., it looked like it snowed here," writes a farmer from southeastern South Dakota. "I'm sure the experts will say it did no damage, but it did. Our beans lost the top 25% of leaves, and it nipped the top corn leaves."

According to MRCC, the median date for a 28°F freeze (the point at which frost will do significant damage to crops) varies a bit by geography. The Dakotas, Minnesota and Wisconsin are typically the "first responders" for frost, with an expected first date between Oct. 1 and Oct. 10.

From there, the risk, on average, spreads from north to south and west to east. Nebraska, Iowa, northern Illinois and northern Michigan could see their first frost between Oct. 11 and Oct. 20. Kansas, Missouri, Illinois, Indiana and Ohio might not see frost until later, between Oct. 21 to Oct. 31.
Long-term weather predictions are still notoriously hard to get correct. Winter's up next, of course, and much harder to predict. In fact, longer-term weather forecasts can be a little like snowflakes, jokes Bill Kirk—that is, no two seem exactly alike.

"If you put 1,000 meteorologists in a room and asked for a forecast, guess what you'd get?" he asks. "Yup, 1,000 different forecasts—and 1,000 different reasons why they'd be right."

Meteorologists go about long-term predictions in any number of ways, says Kirk, CEO of weathertrends360, one of many players in the long-term forecasting game.

For example, he says the National Oceanic and Atmospheric Administration prefers to lean on El Niño and La Niña cycles and "the trend is your friend" persistence concept. "In other words, if it's been hot and dry, continue to forecast hot and dry," he says.

Others prefer taking an analog approach by lining up current climate, oceanic and solar cycle indices and comparing it to a month with similar conditions from the past 120 years of recorded weather data.

There's danger to doing this. That's because scenarios that are similar on paper can still play out quite differently in the real world.

Kirk says weathertrends360 relies most heavily on "good old math" when making long-term predictions. They prefer to use "statistics with a mix of 24 climate cycles, topographical factors and a trade secret twist to bring it all together," he adds.

The company is predicting this upcoming winter will be slightly colder than average, but "not the epic cold some are forecasting."  
---
Polar Vortex Encore?
January brought a new phrase to the nation's vocabulary—"polar vortex." A new study from the Nature Communications journal suggests the U.S. might want to brace itself for numerous encores.

The polar vortex always exists, but it is just typically "penned in" the Arctic. From time to time, it escapes this confinement and wanders south, dragging the frigid arctic air with it. This most recent study validates that these "escapes" will become more frequent.

The study investigated a correlation between low sea ice levels in the Barents and Kara seas near Russia and polar vortex incidences. It hypothesizes the ice keeps heat energy from entering the atmosphere. When this happens, it can weaken the jet stream and allow the polar vortex to dip southward. Because these seas are currently experiencing low ice levels, the researchers conclude that the polar vortex will make more encore performances in the near future.