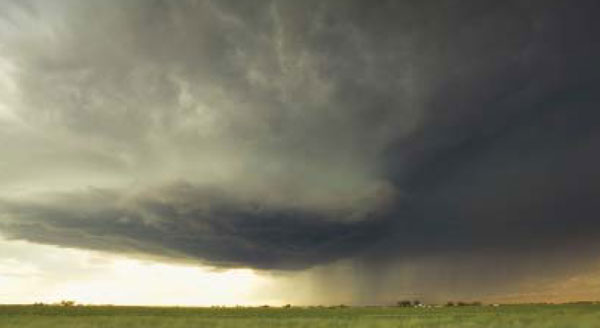 A new reality for production ag means big costs
One hour and 10 minutes. That is the time it took 4" of rain to accumulate on Ray Gaesser's farm one spring day. Staring at the rain gauge and his parked planter, the normally gregarious Gaesser grows solemn. The climate of farming, as he knows it, is changing.

"During the last several years, we've seen an increase in rains that exceed 3" per hour or dump 6" to 8" per day," says Gaesser, who farms 6,000 acres of corn and soybeans near Corning, Iowa. Rain delayed planting by three weeks this year. "Weather has caused erosion in our no-till system where we hadn't had it before," he says. "We seem to be in a cycle of extreme weather."
---
Nationwide, eight of the top 10 years for extreme one-day precipitation events have occurred since 1990.
---

Farmers around the U.S. feel the change. Periods of excess precipitation follow seasons of rain scarcity. 

The past several years showcase the types of struggles farmers could face in the future because of climate change. In 2011, a record-breaking $10.8 billion in crop insurance payments went to farmers, many of whom suffered historic flooding. The severe drought of 2012 resulted in indemnities of $17.4 billion, an all-time high. USDA distributed fewer payments in 2013, yet the $12 billion tab is nearly six times higher than what it spent in fiscal year 2000, notes the Congressional Research Service.

Truth or Myth? As farmers walk the line between cracked earth and muddy fields, two new reports have reignited the climate change discussion. This spring, the 5th International Panel on Climate Change report confirmed the earth continues to warm. The period from 1983 to 2012 was "likely" the warmest 30-year period of the past 1,400 years in the Northern Hemisphere.

Less than six weeks later, the Barack Obama administration released the National Climate Assessment, with recommendations for reducing greenhouse gases that might require the ag industry to make significant capital investments. The document—mandated by Congress and produced by more than 300 experts, states: "Climate change, once considered an issue for a distant future, has moved firmly into the present."

That reality is clear to Gene Takle, who does not easily wake from sleep in the middle of the night—except when it storms. The cracks of thunder and flashes of lightning don't frighten him; they give him peace. They mean the Midwest's weather patterns are holding.
---
USDA forecasts much of the nation will warm by between 1.8°F and 3.6°F in the next 40 years, more so in the center of the country.
---

As global temperatures rise during the next 35 years, those midnight storms will become memories, says Takle, an Iowa State University climatologist with the Regional Climate Modeling Laboratory. Two weeks between rains instead of one will be significant for crops. 

"Global warming is bringing a whole new climate to the farm," says Takle, who helped author the agriculture chapter in the federal climate report. "We are going through a period where there are some favorable changes occurring that have increased production, but this isn't likely to last." The climate change he describes is more nuanced than the phrase "global warming" suggests: Farms might see colder and wetter weather in some places. 

Scientists agree the climate is shifting, but the debate continues on how much change is due to humans and the production of greenhouse gases (GHG). A United Nations panel projects global surface temperatures likely will exceed 2.7°F above preindustrial levels by century's end and will range from 0.54°F to 8.64°F above 1986 to 2005 levels, depending on GHG emissions.
---
Developing regions face trade risks as food production adapts. For example, Sub-Saharan Africa had agricultural exports in 2011 of $34 billion.
---

View From the Field. Back on the farm, the saying "corn knee-high by the Fourth of July" no longer applies. Crops mature more quickly than ever. From 1981 to 2005, the Midwest saw average corn planting dates advance by 0.40 days per year, according to an Iowa State study. The average soybean planting date advanced by 0.49 days.

Less predictable are what the U.S. Global Change Research Program calls "extreme weather events," which the group has tracked since 1960. Incidences are up for these events, which occur at random intervals and shove yields beneath the trend line.

Takle thinks corn and soybean production will continue to shift north. In addition, he expects the Corn Belt to move farther west.

Although each year varies, Illinois generally has a later first freeze in the fall and an earlier last freeze in the spring. "We have been experiencing a slightly longer growing season," explains Jim Angel, Illinois state climatologist. That said, recent weather events are not as extreme as those in the past.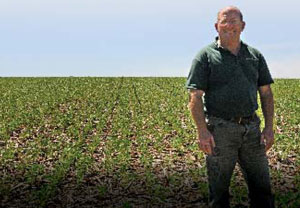 This year, rain forced Iowa producer Ray Gaesser to delay planting his corn and soybean crops by three weeks. That reinforces a fact he knows well: The number of storms dumping 3" of precipitation or more in an hour is growing.   

"The 1930s outstripped anything we've seen since then—especially 1936," Angel explains.

Farther north, corn is eating up acres of the Canadian prairie where, in the past, the crop couldn't be produced. The mean annual temperature is likely to climb by as much as 5°F in the region by 2050, researchers say. 

This past year, farmers in Manitoba, Saskatchewan and Alberta sowed a record 405,000 acres of corn in those hot spots. That's double the area planted two years earlier and almost eight times the area planted 20 years ago. By comparison, U.S. farmers planted about 95.4 million acres in 2013. 

Pest and Weed Worries.  Count weeds and insects among the beneficiaries of climate change—and crop nutritional value among the victims.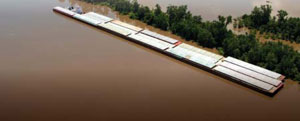 "With increasing weather variability and more extreme natural disasters, the international trade system must support the unimpeded short-term movement of food to compensate. Policies to support these trade flows should be a priority in international trade negotiations."
—Gerald Nelson, former senior research fellow at the International Food Policy Research Institute, in a recent paper for the Chicago Council on Global Affairs

Today, new weeds and insects survive winter in greater numbers. "We are getting bugs up here that used to be a problem just for Missouri and farther south," says John Vrieze, a Wisconsin dairy farmer. Although he initially responded with stronger insecticides, genetically modified crops reduced the need for chemicals. Yet fields are sometimes sprayed twice per year because of the longer growing season.

Pest migration also will be influenced by climate. "Global warming could extend their northern limits by several hundred miles," says Lewis Ziska, who co-authored the recent federal climate assessment.

Farmers manage bugs and weeds by increasing application rates for herbicides and insecticides. U.S. farmers spent $13.7 billion in 2012 on all ag chemicals, the most on record and nearly two-thirds higher than in 2002, according to research by USDA. But climate change could reshape that dynamic entirely. 

"The most widely used herbicide in the United States, glyphosate (also known as Roundup and other brand names), loses its efficacy on weeds grown at CO2 levels projected to occur in the coming decades," notes the federal climate report.

Public and private sectors are striving for solutions. Introduction of drought-tolerant corn, such as Pioneer's Optimum AQUAmax and Monsanto's DroughtGard hope to help farmers adapt. 

With any change comes opportunity, and climate shifts offer some potential. As the federal climate report noted: "Taking advantage of increasing length of growing season and changing planting dates could allow more diverse crop rotations."
---
Diseases such as Asian soybean rust might spread in warmer winters; now a monitoring 
program is in place.
---

Among those readying farmers is Chris Anderson, assistant director of Iowa State's climate science program. For example, he thinks operations with highly erodible land might integrate cover crops and other conservation practices in anticipation of more frequent wet springs. 

Interest in keeping farmers resilient is evident at other institutions, too. Purdue University is one of 10 schools participating in the Sustainable Corn Project, funded by USDA. Purdue's team is studying how practices such as drainage water management can make crops more productive even with variable climate, says Eileen Kladivko, Purdue agronomist.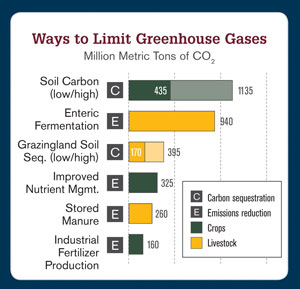 Annual carbon emissions from global agriculture can be reduced up to 90% by 2030, scientists say. A recent report highlights key strategies that can also achieve food security, including better farm nutrient management, reduced global beef consumption and reduced food wastage. Yearly savings are shown relative to a baseline level.

"We are researching practices that are not yet widely adopted across the state," she says. Controlled drainage, for example, raises the outlet of the drainage system immediately after planting, giving crops more access to water in dry periods.

Adapt or Give Up. The reality that climate is changing means all of ag needs to do some scenario planning, particularly related to transportation, notes Gerald Nelson, senior research fellow, International Food Policy Research Institute.

"Infrastructure projects must embed climate resilience," notes Nelson, co-author of a report on climate change for the Chicago Council on Global Affairs.
Meanwhile, farmers will play an important role in helping researchers adapt food production to climate change. "We need to be thinking forward as to the kinds of adaptation strategies, while at the same time, we are looking for measures to mitigate the underlying cause of climate change," Takle says. 

Take Iowa farmer Gaesser's situation. His steeper no-till fields saw significant erosion amid extreme weather, but no-till fields with cover crops had almost none.
---
Over 34 years, U.S. no-till cut CO2 emissions by 241.3 million metric tons, shows a United Nations report.
---

"We need to adapt our conservation practices to what is happening in fields," he says.

The ag industry has begun to change production management as it has rebounded from historic levels of crop loss. Increased innovation and a commitment to building resilient farms is needed to ensure farmers adapt to keep pace.
---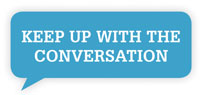 There's no shortage in conversation about climate change on the Internet. But how do you identify the professionals from the self-professed experts? Here are several Twitter handles to keep you informed:
---
@UN_ClimateTalks Get the latest news on global negotiations and clean energy  from the United Nations Framework Convention on Climate Change. Find article links, infographics, videos, quotes and more. 
@jeffnesbit The editor of Climate Nexus, a strategic communications group, shares news and analysis about the changing environmental landscape through an array of multimedia reports from global sources. 
@ClimateDesk Eight media outlets including The Huffington Post, Wired, Slate and Mother Jones team up to explore how climate change affects our lives, from the human implications to the economy and politics.
Cargill Chair Says Industry Must Evaluate Climate Risks
A recently released analysis titled "Risky Business: The Economic Risks of Climate Change to the United States" shows the effects of climate change on agriculture will be substantial and will vary by region. Now, Gregory Page, executive chairman of Cargill, is weighing in on the subject as a committee member of the Risky Business Project, which published the assessment. Although he says he is "perfectly suspended [in] mid-air between being a full believer and a full denier" in the roles of carbon dioxide and human activity on climate, he appreciates the report's focus on risk assessment. "Being a child of North Dakota, I can say from firsthand reflection" that a less-severe winter has been "a positive for productivity," Page says. 
---
"Weather the Storm" coverage continues online with exclusive reporting that includes:
Photos:

View images of the lingering western drought and see the latest Palmer Drought Index.

Videos:

Watch how climate is shaping markets with clips from "AgDay" and "U.S. Farm Report." 

Recent Reports:

Explore bonus news articles on regulations, insurance, trade and more.