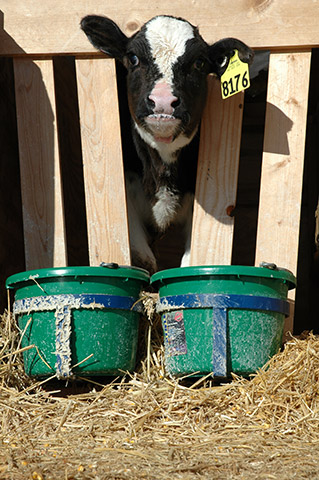 Source: Zoetis
Recently the Council on Dairy Cattle Breeding (CDCB) announced that weekly preliminary genomic predictions will be released beginning the week of November 11th, 2014.  "Zoetis applauds this move as a way to effectively and efficiently provide dairy producers with more information to make informed management decisions," says Cheryl Marti, Zoetis Sr. Marketing Manager, U.S. Dairy Genetics & Reproductive Products.
Because of this change, CLARIFIDE® customers will notice a significant improvement in the time between submitting a sample and receiving results—the average response time should be cut in half from current typical experiences, if samples are submitted on a weekly basis, she says.  To help us achieve this goal and maximize efficiency, Zoetis reminds producers of a few simple procedures:
Double check animal identification and birthdates. This includes proper identification of the animal being tested, as well as ensuring that the proper parents are assigned to that animal. Greater accuracy in this area means less time on our customers and staff resolving conflicts.
Reevaluate your DNA collection technique. Revisit standard operating procedures for sample collection to ensure that high-quality samples are properly taken and packaged for shipment. This helps minimize the likelihood that samples need to be retested.
Adjust on-farm procedures to take advantage of weekly predictions. In the past, many producers waited until the monthly cut-off date to send in samples and efforts were done both on the dairy and in Zoetis laboratories to accommodate this additional work. Now with weekly evaluations, producers can submit samples more frequently which enables more consistent processing on the dairy and in our laboratories, resulting in the opportunity for faster turnaround time for CLARIFIDE customers.
All trademarks are the property of Zoetis Inc., its affiliates and/or its licensors. ©2014 Zoetis Inc. All rights reserved. CLR-00047.