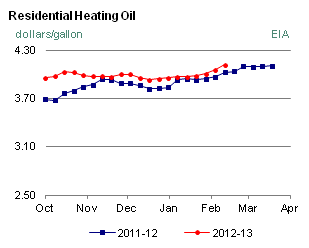 Residential heating oil prices moved higher during the report week. The average residential heating oil price climbed $0.060 cents to $4.123 per gallon -- $0.091 cents per gallon higher than the same time last year. Wholesale heating oil prices also increased -- $0.091 cents per gallon higher to $3.402 per gallon, $0.142 cents per gallon above last year at this time.
Distillate stocks fell by 3.7 million barrels (mmbbl) to 125.9 million barrels -- making gains on year-ago levels at 17.8 mmbbl above last year. Production slid 0.115 mmbbl to end the report week at 4.357 mmbbl -- 0.036 mmbbl below year-ago.
The average residential propane price increased by $0.004 cents last week to $2.482 per gallon -- $0.380 cents per gallon below the same period last year. Wholesale propane prices fell 0.024 cents to $0.968 per gallon -- $0.191 cents per gallon lower than year-earlier.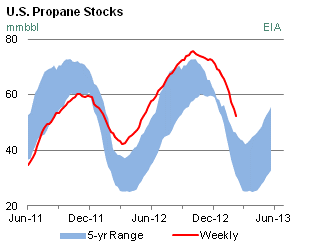 Propane stocks fell by 2.458 mmbbl to register a week-week decline to 52.411 mmbbl -- that's still 5.972 mmbbl above year-ago and remains well above the five-year average, pacing a seasonal drawdown.
Demand outpaced production during the report week, but with spring almost in sight, prices will ease as the temperature makes its way to its summer range. In the mean time, Jack Frost will continue to fetch a premium for home heat.
Temperatures --
According to EIA, Temperatures during the report week were 0.1 degrees cooler than the 30-year normal temperature and 8.3 degrees cooler than the same period last year. Temperatures in the Lower 48 states averaged 34.4 degrees, compared to 42.7 degrees last year and the 30-year normal of 34.6 degrees. While overall temperatures were close to normal, temperatures varied somewhat across Census divisions.
The East North Central Census division in the Midwest and the Middle Atlantic Census division in the Northeast were relatively cool, averaging 4.0 and 3.4 degrees cooler, respectively, than the 30-year normal. The West South Central division in the South and the Mountain Census division in the West were relatively warm, averaging 7.3 and 4.7 degrees warmer, respectively, than the 30-year normal.
Heating degree-days nationwide were 0.5 percent above normal and 35.2 percent above last year.
---