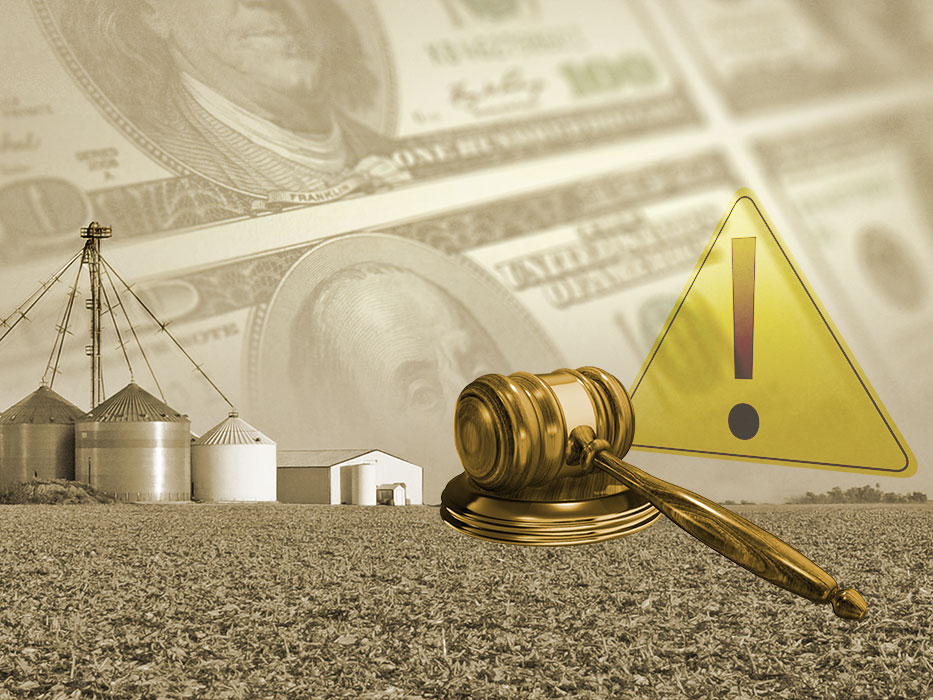 The good neighbors of farming are fading away in an era of litigation and legal wrangling. When physical injury occurs on a farm, the loss often leads to a courtroom. While producer eyes are quick to focus on the fine print and penalties of OSHA regulations, sledgehammer civil suits approach from the blindside, capable of swallowing an entire operation.
Mirroring the mainstream, agriculture has entered an unprecedented litigious age. Today's producer is often perceived as a wealthy, land-rich businessman with substantial assets. As civil cases stack up in farm country, the plain truth is difficult to ignore: The factors surrounding liability can preserve a given operation or shred a legacy to the deepest roots.
"Some of these settlements climb into the millions," says Bill Field, a professor of agricultural health and safety at Purdue University. "When somebody gets hurt on a farm, they don't fight, but they sue and the lawyer involved is coming for every penny possible."
Producers are typically worried about $10,000 OSHA fines, Field says, but he recently worked with a farmer who paid his maximum umbrella policy on a death case of $1 million. Immediately after the settlement, his insurance company dropped him.
Field has testified in 120 cases relating to agriculture and involving disputes and tragedies of all stripes and unprepared producers. For example, he has testified in six hayride suits where producers assumed insurance coverage. (After mounting losses, most insurance companies don't offer coverage for hayrides.)
Passing on leftover chemicals, ATV wrecks, hunting accidents, livestock-related injuries and so much more, the areas of farm operation exposure seem endless. Field recalls an incident involving a farmer who allowed a neighbor to ride a snowmobile across his land. The neighbor drove directly into a white gas storage tank. Argument: Due to snowy conditions, the farmer should have recognized the low-visibility of the tank and marked it. "Insurance handled the case, but in time, they'll get their money back from the farmer," Field says.
Even non-agriculture activities relate directly to farm assets, a sobering reality that played out in another of Field's cases. On a picturesque row crop and livestock operation, a farmer-and-wife team started a day care in a fenced-off addition of their house. A 7-year-old wandered away and was killed after getting caught in a belt-pulley system. The child's family sued and everything was lost: buildings, cattle, equipment and land.
"No one should think they can't lose their farm," Field says. "Some farmers have chemicals that aren't even legal sitting in the shop. But even when legal chemicals are shared by a certified pesticide applicator, the transfer can cost a whole farm if something goes wrong. A quart out the backdoor to a friend can trigger a chain of disasters."
Injuries and mishaps are only statistics until they strike a given farm operation. Consider the debilitating costs of injury and make certain of proper insurance coverage. "A $250,000 umbrella policy isn't going to save your farm when something goes wrong," Field says.
Producers must precisely examine who walks onto their farms, employees or guests, and factor in liability. "We recommend you talk to your agent at least once a year," says Steven Simmons, Nationwide associate vice president of agribusiness risk management and a 31-year insurance veteran. "Operations are constantly changing and those changes may create areas or situations without coverage or a need to increase coverage. So many things on a farm require specific coverage that may not be covered by general liability.
"Make sure your agent understands your operation and ask if you've got enough coverage. The purpose of general liability and umbrellas is to protect your assets. If you are liable for a loss of $1 million and your policy has a $300,000 limit of insurance, you may be responsible for the difference," Simmons adds.
The extent of grower obligations depends on who is at the farm, says Ross Pifer, director of The Center for Agricultural and Shale Law at Penn State University. "Trespasser, guest, salesman, worker or customer, the level of obligation increases as someone is more connected to the farm business," he notes.
"Obligations with something like OSHA regulations are easier to understand, but there is a lot of gray in civil liability assessment and that clouds how farmers view the necessity of protection," Pifer says.
Field recently testified in a case where a farmer hired a young neighbor to help work on an old silo motor. At the farmer's request, the teenager pushed on the motor while it was running, and a slip resulted in a major leg injury. "The farmer paid the maximum under his policy and it was a huge amount of money," Field explains. "Your operation can't afford an injury unless you are protected."
He urges producers to invite insurance carriers to the farm to break down risk factors: "Show them what you do and then have a sit-down to go over all the details of your coverage and what else is needed."
Field also stresses the importance of a safety and emergency action plan. When the unlikely happens and something goes wrong, he says everyone on an operation should know where to meet and what general steps to take.
On several occasions, Field has witnessed the cost of delays. He recalls a case where a 911 contact was delayed for several hours. Field was at his desk when the phone rang with a call from a former student. "A guy was trapped in a grain bin and nobody called 911. Why? The boss was afraid of OSHA and was going to hide it. They wanted me to walk them through what to do. I said, 'Call 911 now.'"
"It's a basic fundamental: Call 911 or you'll be in worse shape and that should be stated right up front in any emergency action plan. Anything else is called negligence."