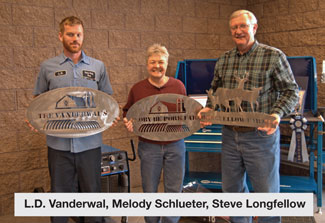 Miller Welding University includes hands-on training and prizes
Since 2007, Farm Journal has partnered with Miller Electric Mfg. Co. to host a two-day Welding University at the company's headquarters in Appleton, Wis. The purpose of the event is to give farmers the opportunity to receive hands-on training, network with welding pros and tour Miller's manufacturing and testing facilities. To round out their prize package, each of the three winners chose to take home the Bobcat 250 EFI engine-driven welding generator, a Digital Performance Series auto-darkening helmet, MIG gloves and a welding jacket. Regardless of their welding aptitude, the event was a hit for all three farmers. 
---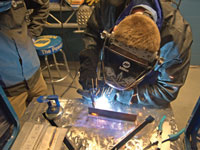 L.D. Vanderwal from Lake City, Mich., is hardly your average 26-year-old. He and his wife bought into the family dairy in 2009 and now work with his dad and sister to milk 200 cows and grow 1,350 acres of wheat, sorghum, Sudan grass, alfalfa, grass hay and corn. "We have plenty of equipment that needs to be repaired," he says. Vanderwal learned how to weld on an MIG, and while at Welding University, he learned about Stick, TIG and SIG welding and used a plasma cutter.  "I learned a lot of different techniques for different materials that you need to weld," he says. "I'll never forget, if there's slag, you drag!"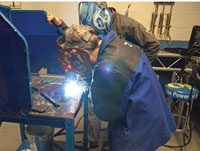 Melody Schlueter grew up on a farm, graduated with a nursing degree and moved off the farm for a few years before returning to Rock City, Ill., in 1989. Now, she and her parents own and operate a farrow-to-finish operation. Schlueter learned to weld from her dad but was excited to learn how to "weld the right way and to do a better job with my welds." As the first woman to attend Welding University, she was eager to jump right in. "I enjoyed meeting the people, and networking with them was great," she says. "Hands-on experience and getting all your welding questions answered, it was unbelievable."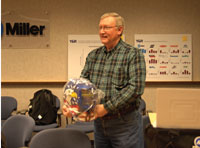 Steve Longfellow, a loyal no-till farmer for more than 20 years, raises corn and soybeans near Greenville, Ohio. He's spent his career focusing more on the agronomics of farming. In fact, Longfellow didn't know how to weld before Welding University. It is something his family has always hired out. "I learned how much I didn't know about welding," he says. "The networking was fantastic. Now if I have questions about welding, I know people I can call who will guide me in the right direction." In addition to the technical training, Longfellow enjoyed seeing the state-of-the-art manufacturing process.