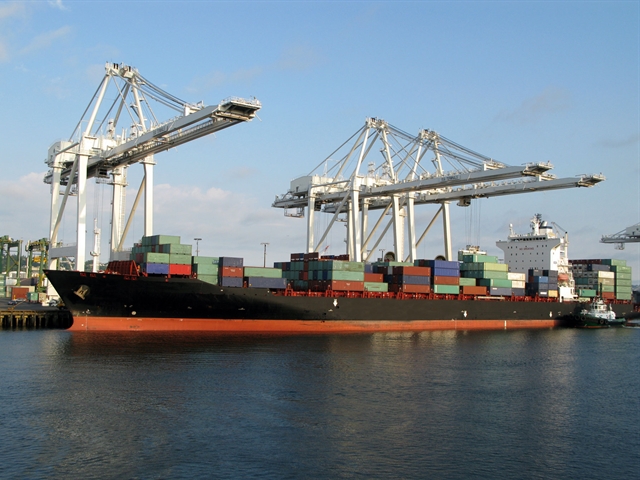 The two busiest U.S. seaports are facing their largest backlog of ships in more than a decade, even with hundreds of dock employees returning to work over the weekend after their union reached a tentative labor contract.
Thirty-five ships were queued up Monday morning outside the Ports of Los Angeles and Long Beach, which together handle almost 40 percent of U.S. imports, in the biggest backup since railroad tie-ups choked off the flow of cargo in 2004, said Kip Louttit, who heads the Maritime Exchange of Southern California. That's up from as few as four in December.
"Ships are still arriving, and they need to get the whole machine going again," said Louttit, whose nonprofit group provides information on ship traffic and helps guide vessels to berths. "It's not automatic that congestion is going down just because they have an agreement."
It will take six to eight weeks for West Coast ports to recover from the cargo backlog, according to the Port of Oakland and the National Retail Federation, which represents stores that resorted to stockpiling seasonal merchandise in warehouses and shifting to East and Gulf coast ports.
'Back to Work'
Los Angeles Mayor Eric Garcetti and Long Beach Mayor Robert Garcia joined union and port representatives at a news conference Monday to discuss the agreement aboard the USS Battleship Iowa at the Port of Los Angeles in San Pedro.
"Today, we celebrate that Los Angeles and Long Beach are back to work," Garcetti said as cranes unloaded containers from an Evergreen cargo ship behind him.
Now that talks have ended, workers are "committed to making these cans move," said Bobby Olvera, president of ILWU Local 13, which represents 7,000 Southern California dockworkers.
"If you're listening to this in Connecticut or New York back east in the snow, your goods are on the way," Olvera said. "No other workforce in the world does what we do here."
The Pacific Maritime Association, which represents management, and the International Longshore and Warehouse Union, representing 20,000 dockworkers, reached the deal on a five-year contract Feb. 20 after U.S. Labor Secretary Tom Perez imposed a deadline to resolve the nine-month dispute. The labor strife had led to backups that left merchandise at sea and retailers and manufacturers sending products by air and diverting to ports on the East and Gulf Coasts.
'Significant Impacts'
"Our focus now is getting cargo moving," Chad Lindsay, PMA's vice president said at the news conference. "There have been significant impacts to many and we haven't lost sight of that."
The association reported that 2,557 longshore jobs were posted for the first shift Monday at the Los Angeles and Long Beach ports, up from 230 during the equivalent shift a week earlier, when cargo operations were suspended for the President's Day holiday.
U.S. retailers aren't yet seeing West Coast ports as a viable option and will continue to divert shipments elsewhere, said Jonathan Gold, vice president of supply chain and customs policy at the retail federation, a Washington-based trade group representing stores and wholesalers.
Port workers still have to ratify the agreement and the cargo backlog has yet to be cleared, he said.
'Extremely Frustrated'
"The need for a reliable and stable supply chain is priority No. 1," he said. "We've heard from a lot of members who were extremely frustrated throughout the entire process and are considering a full move to other ports to avoid the West Coast."
Retailers are trying to get merchandise to stores "so that a consumer doesn't see an empty store shelf," he said. Products including patio sets, barbecue grills, clothing and shoes slotted for spring sales are being affected, he said.
The labor dispute will cost retailers an estimated $7 billion this year, mostly because of lost sales and higher shipping costs, said Frank Layo, retail strategist at Kurt Salmon in Atlanta.
"Every container that goes somewhere else comes with an additional cost," Layo said. "People go to L.A. because it's cheap and it's fast. By definition, everything else is slow and more expensive."
Freight Fees
News of a tentative contract agreement also didn't bring much relief to AJ Khubani, chief executive officer and president of Telebrands Corp., which markets the PedEgg Power, Pocket Hose, Hurricane Spin Mop and other "As Seen on TV" products.
Khubani said his Fairfield, New Jersey-based company has incurred hundreds of thousands of dollars in air freight fees, as well as additional costs for leaving containers at ports too long. Telebrands has lost about $400,000 a day in sales since backups began in October, Khubani said in a telephone interview.
Work stoppages continued at the Port of Oakland, the fourth-busiest on the West Coast, where most crane operators, who load and unload vessels, didn't show up Monday because of a union meeting, said Michael Zampa, a port spokesman. The result is light traffic at most terminals and some cargo being prepared for shipment, with full operations to return in the evening, he said.
Illegal Stoppage
While work there had resumed Saturday night, operations were suspended for part of the day shift on Sunday over a break- time dispute between labor and management. A local arbitrator ruled the work stoppage by the longshoremen was illegal, the Pacific Maritime Association said in a statement. They returned to work Sunday night, Zampa said.
Nine vessels were at berth at the port, and 18 more awaited a slot, he said.
Labor shortages related to the contract talks haven't been the only issue slowing down commerce. Long Beach, for example, has been hampered by congestion resulting from the inefficient loading of the latest generation of giant ships and a lack of truck chassis to transport cargo containers, Jon Slangerup, chief executive officer of the Port of Long Beach, said this month.
Work was in full swing at the Los Angeles port, where 22 ships were berthed and being unloaded and loaded, while another 35 waited nearby, said port chief Gene Seroka.
"It may take us three months to get back to a sense of normalcy," he said. "That work begins today."