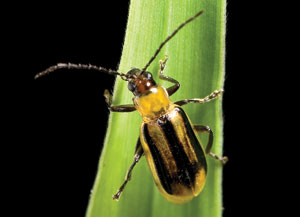 First, university entomologists confirmed that Western corn rootworm (WCR) could break through the efficacy of the Bt toxin Cry3Bb1. Now, as a number of entomologists feared, a second toxin called mCry3A has succumbed to repeated pressure from WCR in some continuous corn fields.

Confirmation of the latest rootworm-resistance problem with mCry3A was made this summer in Iowa by Aaron Gassmann a researcher at Iowa State University. The practice of continuous corn and the repeated use of hybrids with the single toxin in those fields likely contributed to the control breakdown in all cases.

Gassmann had suspected the presence of resistance, prior to making the confirmation. "Bioassay data from 2011 showed that whether the rootworm was from a field with Cry3Bb1 or mCry3A, they were able to survive exposure to either of the two toxins," he says.

Similar genetic makeup of the two Cry3 toxins available in corn hybrids contributes to the cross-resistance. "Western corn rootworm respond to the toxins in similar ways, so if they're resistant to one they're probably going to be resistant to the other," Gassmann explains.

That does not bode well for a third toxin, Cry34/35Ab1, which is exhibiting some rootworm-control weakness in the field, Gassmann says. At this time, though, no resistance has been confirmed.

What this means for farmers in 2014 is that they need to think about diversifying their management practices for western corn rootworm and moving away from reliance on traits alone to manage the pest. Here are recommendations that Janet Knodel, North Dakota State University Extension entomologist, offer for farmers' consideration:

Practice crop rotation and avoid planting continuous corn. Rotating to a non-host crop such as soybean will help break the life cycle of WCR.

Control any volunteer corn or grassy weed hosts. Any volunteer corn that survives into late June will allow the larvae of the resistant gene pool to survive. If volunteer corn is allowed to silk, adult females will be attracted to the field for egg laying. Be aggressive in controlling volunteer corn and adopt a zero-tolerance policy.

Use a different Bt corn hybrid, preferably with multiple Cry proteins. Most of the pyramided Bt corn hybrids, such as SmartStax RIB, perform well when resistant corn rootworms are present; however, these hybrids rely on one protein (Cry34/35Ab1) for effective control.

Use a soil insecticide at planting to ensure control of larvae and prevent corn lodging. Soil insecticides do not change the Bt selection pressure on corn rootworm in the field, since insecticides are effective only around the root zone, Knodel says. However, the benefit of using a soil insecticide will depend on whether the Bt trait is still effective and whether resistant corn rootworm is present. Soil insecticides are generally only about 70% effective for control of corn rootworm larvae. Overall, granular soil insecticides at planting have performed better than seed treatments and liquid soil insecticides.

Gassmann recommends the use of soil insecticides at planting with non-CRW Bt corn only.

Monitor the efficacy of control. Dig up and check some corn roots this summer to evaluate whether your WCR control measures are holding or slipping; plan your corn hybrids and management practices accordingly the following season.