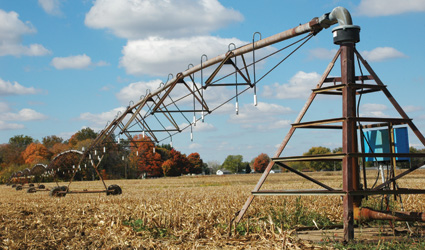 As California struggles to deal with its ongoing drought, it's worth taking a broader look at irrigated agriculture in the West.
According to the USDA's Economic Research Service, most (75 percent) of the country's irrigated farmland can be found in 17 states in the West. These farms are major sources of agricultural products and revenue, contributing more than half (54.5 percent  or $78.3 billion) to the value of sold crops as well as farm animals. They are also major consumers of water, soaking up between 80 percent and 90 percent of overall water consumption in the United States, or 24 trillion gallons of water in 2008.
But as irrigation technology has advanced, so has the effectiveness of these systems. From 1984 to 2008, farmers shifted from gravity irrigation to the more efficient pressure-sprinkler irrigation systems, which allowed for drip, low-pressure sprinkler, or low-energy precision methods.
As a result, the country has seen "remarkably stable agricultural water use over the past 25 years," according to USDA-ERS, "as fewer acre-feet were required to irrigate an increasing number of acres."
But as the current drought shows, water-efficient technology can only go so far. More than half (52 percent) of the water used for agricultural irrigation comes from surface water such as lakes, rivers, streams, or ponds, whereas 48 percent comes from wells that bring up groundwater from local and regional aquifers. With California experiencing record-low precipitation, water levels in reservoirs and other sources have dropped significantly.