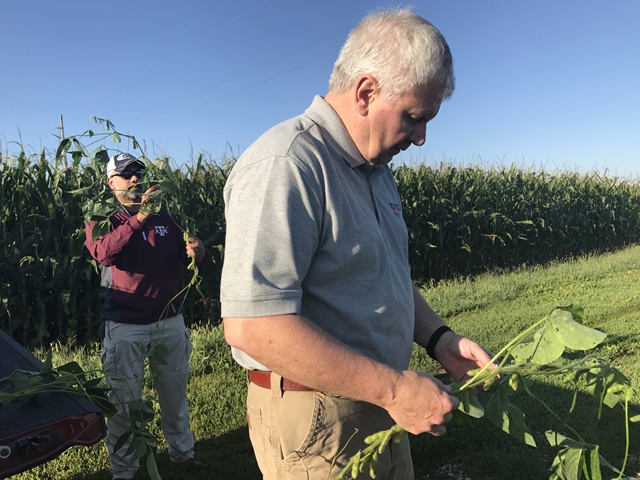 After four days and more than 3,000 corn and soybean samples, the 2017 Farm Journal Midwest Crop Tour is in the books.
The U.S. will no doubt see a big crop of grain and oilseeds this fall, yet early-season moisture in places forced corn replanting that limited the crop's potential, and dry conditions put a lid on yield in some areas. Soybeans have good yield outlook in many places assuming timely rains fill out flat pods. At the same time, variability reigned supreme in many soybean fields, making it difficult to forecast total production.
Following the Tour, Pro Farmer released its 2017 corn and soybean crop estimates. They are:
Corn: 13.953 billion bu.; Average yield of 167.1 bu. per acre
Corn /- 1% = 14.093 billion bu. to 13.813 billion bu.; 168.8 bu. to 165.4 bu. per acre
Soybeans: 4.331 billion bu.; Average yield of 48.5 bu. per acre
Soybeans /- 2% = 4.418 billion bu. to 4.244 billion bu.; 49.5 bu. to 47.6 bu. per acre
"There is too much uncertainty and unevenness to take national crop yields higher," says Brian Grete, Farm Journal's Pro Farmer editor on the Aug. 25 episode of Market Rally Radio.
In its Crop Production report in August, USDA forecast the national average corn yield at 169.5 bu. per acre, and for soybeans, USDA pegged the national average yield at 49.4 bu. per acre.
The Pro Farmer estimates are based on assumptions for normal weather through September. The weather in next month will be especially important, as an earlier-than-normal frost or freeze would damage later-maturing corn and soybeans.
For soybeans, Pro Farmer raised harvested soybean acres by 500,000 to 89.231 million acres. Even through the soybean yield estimate is lower than a year ago, total soybean production will be bigger than in 2016.
"We took the pod counts, put them into our yield model and used a historical average on bushels produced on 1,000 pods," says Chip Flory, Farm Journal Pro editorial director and "Market Rally Radio" host. "When it kicked out 48.5, I was surprised."
Future Grain Price Movements
For the week, the corn and soybean markets didn't make significant movements in any direction. But, Grete says, demand is robust at current price levels.
"When you get cheap enough, demand shows up—physical, paper, etc.," he says. "As long as there are buyers, you put in the lows."
But the upside is limited for grain prices, he says.
The two big "wet blankets" for prices, Grete says, are high amounts of old-crop stocks sitting around and low amounts of priced (?) new-crop grain.
"I think we are closer to a low than a high at this point," he says.