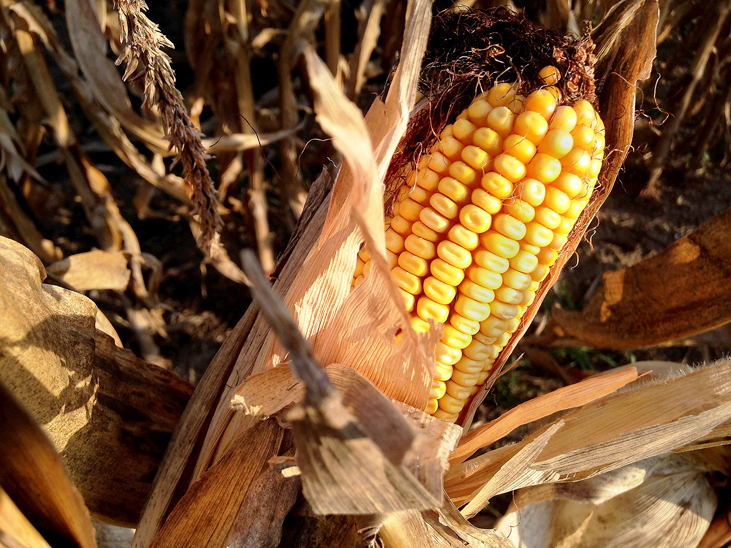 Farmers are harvesting a high-moisture corn crop, according to a recent Farm Journal Pulse.
The nearly picture-perfect weather that is behind a potentially record corn crop is now causing harvest concerns, as moisture levels are high heading into October
As of Oct. 5, USDA says 17% of the corn crop is harvested, which is significantly behind the five-year average of 32%. Not quite all of the corn crop is mature yet, however. Normally 80% of the crop is mature by early October, but this year, only 77% is mature.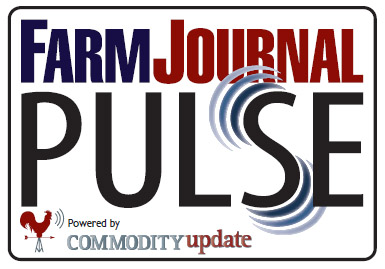 One factor that could be slowing harvest is corn moisture levels. An Oct. 1 Farm Journal Pulse asked farmers: What is the average moisture level of your harvested corn?

Here are the results:
Under 16%: 13%
16-20%: 29%
21-25%: 21%
26-30%: 16%
Over 30%: 15%
N/A: 6%
The driest corn is in the southern states and it gradually gets wetter as you go north. Read more harvest 2014 reports.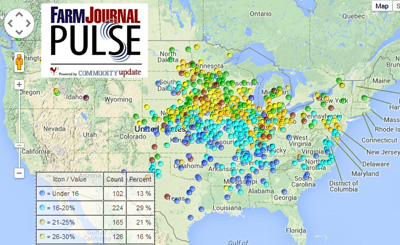 Post-Harvest Drying Demands
The wet fall many farmers in the Corn Belt are seeing will require many bushels to be dried after they leave the field. "It looks like it's going to be a great crop, and it definitely looks like it could be a wet harvesting year," says Klein Ileleji, associate professor of agricultural and biological engineering at Purdue University. "Farmers should be working now to avoid problems later on."
Adequate drying is an especially important consideration for growers who plan to store their crop rather than sell it immediately, Ileleji says. Excess moisture makes stored grain more susceptible to spoilage.
Under more normal conditions, farmers would bring in their corn with a moisture content of about 20%, Ileleji says. The grain can be safely stored for six months with moisture content of 15% and up to a year at 14%.
This year, because cooler temperatures and damp air delayed dry-down in the field, some farmers could be bringing in crops with moisture content of 25% or higher.
Wringing out that extra moisture will be a challenge, Ileleji says.
"We typically talk about taking out 5% or more of the moisture in the drying process. Now we could be talking about 10% or more for some of the crop," he says.
Drying units could be taxed by the extra work, so farmers should make sure their equipment is in good working order, Ileleji says.
"Wet corn will not flow smoothly through the machine and could clog the mechanism," he says. "Because post-harvest drying is a time-consuming process, there is a tendency to try to do too much at once, which simply leads to breakdowns and additional delays."
Ileleji stressed that operators should never reach into a drying unit or storage bin with flowing grain to clear a jam.
"That is a significant safety hazard," he says.
Despite the additional work and expense associated with an extended drying operation, Ileleji advised farmers who might have a moisture issue not to wait too long for their crop to dry down in the field before harvesting.
"We are already pushing the outside of the weather envelope in late October," Ileleji says. "It is better to bring the crop in wet than to have it freeze."
What is your corn's average moisture? How will your yields shake out this fall? Submit your report to AgWeb Crop Comments. You can read more and share your own 2014 harvest reports in the AgWeb Discussion Boards.
 
Add Your Vote
You're invited to be part of the heartbeat of our new national producer panel that speaks up and speaks out. Participating is as easy as answering two quick poll questions per month via text message from your mobile phone.
By partnering with
Commodity Update
, the leading provider of agricultural information to mobile phones, Farm Journal sends you the question via a text message on the first and third Wednesday of each month.