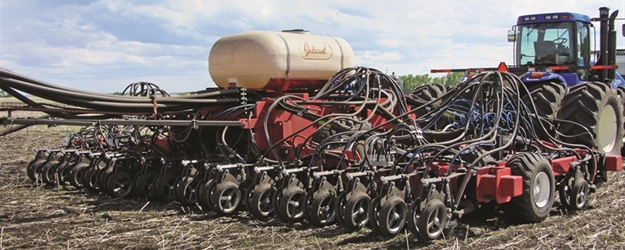 Analysts in Canada were right on target in their estimates for seeded acreage, but problems have delayed some planting in the prairie provinces.
According to Jonathon Driedger, market analyst with FarmLink Marketing Solutions in Winnipeg, as many as 2 million acres of wheat, canola and some of the country's lesser crops likely did not get planted in Saskatchewan and western Manitoba this year due to heavy rains. Other acres are under water.
"Some parts of western Canada have had too much rain, which could have implications as to where the final acreage numbers end up at the end of this year," Driedger says.
Large Wheat, Canola and Soybean Crops
Even so, Canada's seeded acreage remains historically high for wheat, canola and soybeans. Only barley and corn acres have slipped significantly.
According to Statistics Canada's June Principal Field Crop Areas report, as of June 10 Canadian producers had either planted or intended to plant 24.1 million acres of wheat, down 7.4% from last year.
"That's down a little from expectations, but not dramatically," says Driedger. "The trade was expecting about 24.5 million acres." The decline was partly due to losses in winter wheat, he adds.
"Canola seedings were very close to trade expectations and up slightly from April's estimate," Driedger notes. "Historically, these are very high levels."
Canadian producers reported planting 20.2 million acres of canola, up 1.5% from last year.
Canadian soybean acreage could reach a record high for the sixth straight year, with seedings of 5.6 million acres, up 23.5% from 2013 acres.
"Farmers reported record levels (of soybeans) in Quebec, Ontario, Manitoba, Saskatchewan, and the Maritimes," notes Statistics Canada is its release.
Acreage Not Higher for All Crops
Barley and corn were the only crops that saw seeded acres drastically reduced. Canada's seeded barley acres declined 14% from 2013 levels to 6.1 million acres.

"Barley was below expectation and a very low number historically," says Driedger. "We continue to see seeded area leave barely and go into other crops."

Canadian producers reported planting 3.1 million acres to corn, down 15.5% from 2013. In Quebec, the area seeded to corn for grain decreased 13.9% to 877,200 acres. Ontario growers reported a similar decrease, down 15.3% to 1.9 million acres.

Seeded oat acres also decreased to 3 million acres, a 3.8% decline from 2013.

This year, summer fallowed acres in Canada fell to 3.45 million, indicating that Canadian producers were planning to plant every acre they could this year. Driedger estimates that 1.5 million to 2 million aces this spring did not get planted due to excessive rains.

"Those numbers were not accounted for in this report," he adds. "That will increase the summer fallow number going forward. Wheat could lose a chunk, and canola would lose some as well."