Hurricane Dorian is weaving her way up the Atlantic Coast today, and pork producers in North Carolina are ready for her.
"We take measures year-round to be ready for hurricanes—it's something we're straight-forward and deliberate about planning for on an ongoing basis," notes Andy Curliss, North Carolina Pork Council CEO.
Curliss says pork producers in the state have faced 20 hurricanes in the past 20 years—one each of those years. The ongoing experience with such storms has taught producers in the state the kinds of steps they need to take to be ready.
"Proper management of the farm is a big part of preparing. For instance, a lot of people are running their generators for several hours today, making sure they're in good working order, and everyone's making sure they have adequate feed on hand," he says.
Along with that, producers are moving pigs between farms to ensure their safety and comfort.  And, as possible, North Carolina producers are shipping pigs a bit early to be fed out in the Midwest or on to market.
"We've got trucks running nonstop between here and the Midwest, making deliveries. When the drivers get back here, they'll clean the trucks, get another load and go again," he says.
Along with the various steps producers are taking to deal with hurricanes, Corliss notes that measures have included, over the years, the voluntary closure of more than 100 swine farms that were in flood-prone areas.
Curliss notes that, as of Wednesday afternoon, Hurricane Dorian is predicted to deliver a "glancing blow" to North Carolina. Still, Dorian is expected to remain a powerful hurricane during the next few days. Maximum sustained winds were about 105 mph early Wednesday, according to the National Hurricane Center.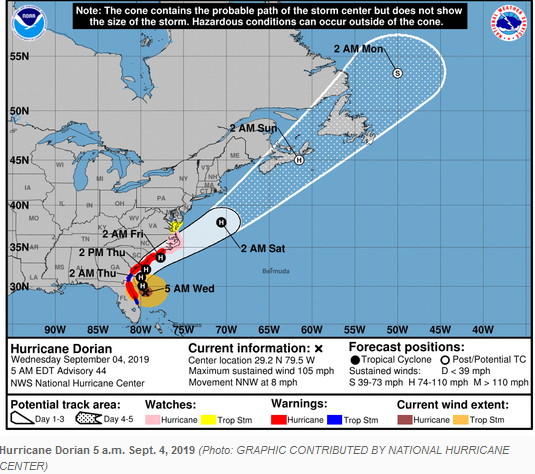 Last year's Hurricane Florence was a stronger storm, with winds that exceeded 140 mph and rainfall amounts up to 36", delivered a punishing blow to properties. Even so, Curliss says the state's hog producers fared well. While producers moved 20,000 animals from flood-prone areas, animal losses on hog farms were isolated, and no single barn lost all of its animals. Along with that, 98% of the 3,300 functioning hog lagoons in the state experienced minimal impact.
Curliss adds he wants to send a message of thanks to pork producers in other states.
"It's always nice to know folks are thinking about you in these things and care about what you're going through, and we appreciate and want to thank everyone for their good wishes."

Dorian Aims At Hog Operations In Parts Of The Southeast