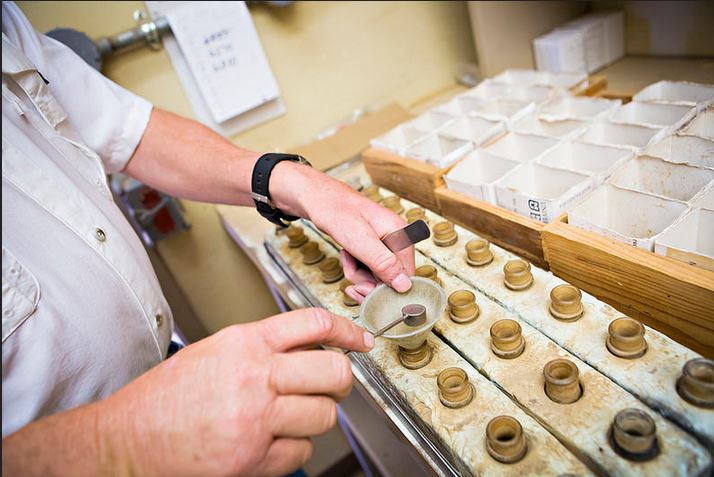 Ever wonder what happens when you take a soil sample and send it off to be tested? David Dunn has a pretty good idea. Dunn, a University of Missouri Extension soil testing lab associate, helps process about 10,000 soil samples each year at the MU Fisher Delta Research Center in Portageville.
"We can tell you what is going on below your feet," he says. "We are all about giving recommendations for farmers to achieve the yields they want. To ensure the best results and recommendations, we suggest taking at least about 10 to 15 different sub-samples. Look at gathering a sub-sample from at least every acre. Even on small farms, the soil change at different spots in the field."
When farmers send in their samples, here's what happens next at the Delta Research Center.
Upon arrival, the samples are sorted and placed in marked containers before undergoing a 16-hour drying session.
The soil is ground and sieved to remove unwanted rocks, sticks or other organic matter.
Extracting solutions are added to simulate the plant's ability to obtain each nutrient in question from the soil. To find potassium, calcium and magnesium, the samples are tested in an atomic absorption spectrometer that burns the soil and solution in an acetylene-fired flame that changes color based on nutrient levels. To find phosphorus, a solution that turns blue in the presence of phosphorus is added. The deeper the hue of blue, the more phosphorus is available.
To determine pH, soil is mixed with a diluting solution and analyzed with an electrode.
"It's really easy to get us the sample, and we can turn around results pretty fast," Dunn says.
Kansas State University researchers say the ROI of soil testing is actually higher when grain prices are lower.
"This is because potential returns to inputs are tighter at lower crop prices," says nutrient management specialist Dorivar Ruiz Diaz.
If actual soil test levels of N or P are higher than expected, producers can realize a significant savings by reducing or eliminating unnecessary nutrient inputs, he says. On the other hand, if producers overestimate how much N or P is in the soil, they could miss out on higher yield opportunities by underfeeding the crop.
"If producers are applying a farm-wide uniform rate, they may be missing the opportunity to maximize profits for each field," Diaz says. "Furthermore, by sampling and fertilizing based on management zones within a field, or based on historical yield map data, producers can further increase the ROI per area."
Don't forget to evaluate micronutrients either, adds, Steven Tillman, territory manager for Compass Minerals.
"Be sure to request micronutrient levels from the soil test lab, too," he says. "Even if you have not previously tested for them, micronutrients can drag yield if they are deficient. Don't let a micronutrient like zinc or boron determine whether you get the most from your seed and fertilizer investments."
Tillman says that in general, farmers should test each field every two to four years, but consider testing more often when introducing a new crop rotation or acquiring new fields.
To see a more in-depth, behind-the-scenes look at soil testing at the Delta Research Center, visit http://bit.ly/MUSoilLabs.