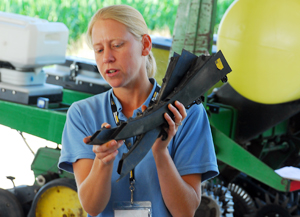 Never too early to get a jump on yields
Morgan Riley, a recent college grad, attended her first Corn College event, and is glad she did.
When she's not out scouting fields, Morgan helps on the family farm in Bernie, Mo. She joins Farm Journal's Pam Fretwell to discuss what she's learned at this year's Corn College Planter Clinic in Olive Branch, Miss.
Morgan says from what she's learned at the Planter Clinic she will now be able to better access fields and make recommendations to help farmers improve their yields.
Have you ever attended a Farm Journal College event? What did you learn?
(Click here to see the full list of 2015 Farm Journal College events)