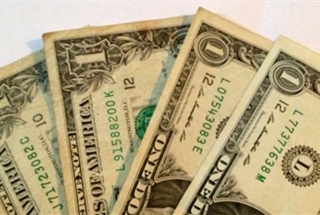 What in the world is the U.S. dollar doing? Jerry Gulke, who discusses markets each weekend on Farm Journal Radio, is wondering the very same thing.
Will the dollar go up? The recent Greek debt crisis certainly boosted the American currency and weakened the euro on the global stage.  
"I think there was an impetus for our dollar to higher based on our economic situation compared to everybody else in the world," explains Gulke. "You may not like our political system or who's running for the presidency or who is in the presidency—Democrat or Republican--- but the bottom line is, if we're bad, then the rest of the world is (worse). We're the best of the bunch… Given that idea, the dollar is still the best place to be."
Listen to the Straight From the Heartland segment here:
Then again, comments by the U.S. Federal Reserve seemed to suggest that the dollar's long rally could be ending. "Since March and April, we've been really going sideways, trying to determine what our next move will be (and) is this economy for real?" Gulke says.
And then there is China, with its extensive investments in U.S. currency and changing economic winds. "Given the amount of people they have and the business they have to do, [China] does a remarkable job in fine-tuning its economy," Gulke says.
With its slowing economy and recent stock market drop, though, government officials in China have been making some changes, selling a billion U.S. dollars in past months.
"What they've been trying to do here is pump more money into their economy. …. They have a lot of dollars and for them to support their own economy, they've got to sell these dollars and convert them to the Chinese yuan and put them back in their own economy to persuade the consumer to spend more so they spend less on exports," Gulke explains.
Could that lower the value of the U.S. dollar? Yes, but Gulke says that's a good thing for farmers.
"If they can push it lower, that's great for us, because Brazilian real is at the lowest level it's been in 10 years or more. They are more competitive now against the dollar than they have been since I used to complain about Roundup being in South America and $6 beans," Gulke says, adding: "Once China is done, look out. There are no more dollars floating around to be sold."