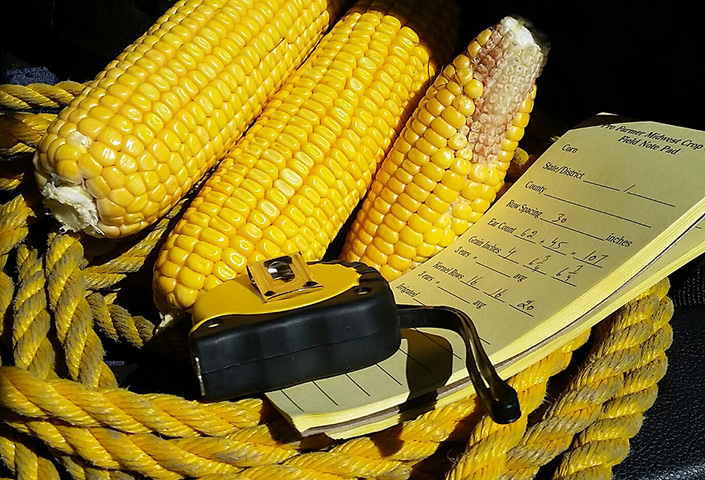 As yield results start rolling in from the 25th annual Farm Journal Midwest Crop Tour (formerly Pro Farmer), farmers are watching markets in anticipation. Slight shifts from USDA Aug.1 predictions could impact corn and soybean prices.
"Is it going to move the market? South Dakota was a little bit better in the area that we sampled from what trade was expecting," says Chip Flory, Farm Journal Pro editorial director. "I think we did a good job explaining though that if there is any area in South Dakota that you can call good that's where we were—and it's down from a year ago."
Outside of South Dakota's sampled area suffered from drought stress. The team found Nebraska corn yields came in higher than those of a year ago.
"I know guys are gonna come back and say you pulled half of your sample from irrigated fields, last year it was about 40% to 40% irrigated," Flory says. To make it even, he took dry land yield and irrigated yield on a weighted scale and Nebraska is still up five bu. per acre over last year—though it's not what USDA predicted.
Similarly, Ohio yield came back stronger on corn than what the market expected, but Indiana fell short—lower than USDA's Aug. 1 expectation. Illinois is the swing state.
"Early reports in Illinois yesterday were than conditions were extremely variable—low end was lower than expected and high end not quite as high," Flory says. Flory expects eastern Iowa and Minnesota to provide good corn yields.
"Since expectations were lower than what USDA showed us I think backing up those numbers might be just a little bit negative in corn markets and beans it's still to early to tell," he says. "Pod counts are down, which might be a touch positive, especially after USDA showed us a big 49.4 national yield Aug. 1."
Where they're seeing good corn, beans are suffering and vice versa. "Pretty common and we're finding a lot of that out there," Flory says.