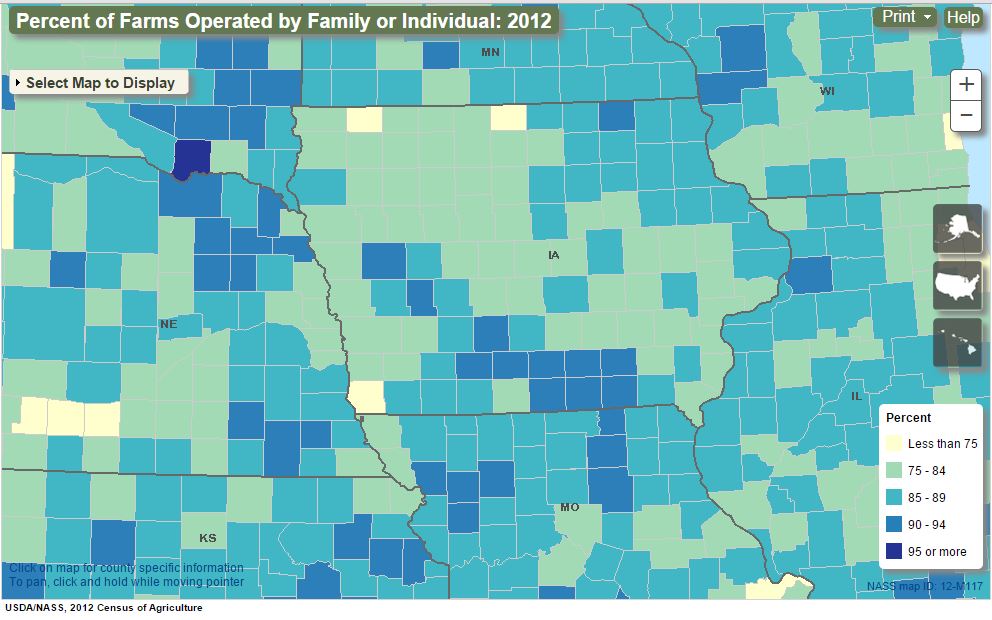 The Ag Census offers a glut of information, but it isn't always easy to digest. The USDA National Agriculture Statistics Service (NASS) has attempted to make these massive data sets easier to understand by mapping out the data – literally.
A new set of maps, which were released earlier this week, show a variety of information about crops, livestock, farms and farmers across more than 3,000 counties in the U.S.
"The Ag Census Web Maps give farmers, ranchers, researchers, planners, non-profits and industry easy access to important data that impact nearly every aspect of agriculture," says NASS  administrator Joseph Reilly.
The interactive maps allow users to navigate to particular areas of interest and print, display or extract data down to the county level. Statistics come from five broad categories, including:
Crops and plants – including data on harvested acreage for major field crops, hay and other forage crops, plus orchard acreage data.
Economics – including data on agriculture sales, government payments, amounts received from loans and a broad range of production expenses.
Farms – including data on ownership and Internet access, land use, irrigation, fertilized cropland and enrollment in crop insurance programs.
Livestock and Animals – including statistics on cattle and calves, cows and heifers, milk cows and other cattle.
Operators – including statistics on tenure, land rented or leased, primary occupation of farm operator and demographic information such as age, sex and residence location.
"The Ag Census Web Maps application is one tool in USDA's shed to better serve rural America, the nation and future generations," Reilly says. "As we pursue innovation at home and abroad, we are considering how advances in technology and knowledge management systems can help users access the information they need to better accomplish their goals. We believe the Ag Census Web Maps application will help users of our data do just that."
The maps are free to use at http://www.agcensus.usda.gov/Publications/2012/Online_Resources/Ag_Census_Web_Maps/Overview/.