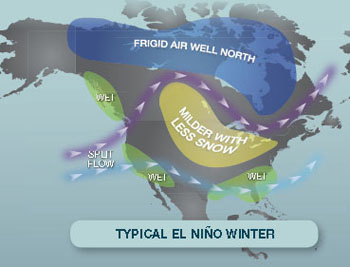 An El Nino winter is coming, which should be good news for drought stricken parts of the nation.
"From California to the southern Great Plains, the one third of the country that's still in drought stands to get wetter than normal conditions during the cold season and that could mean some drought relief from California through Texas," says Bad Rippey, USDA Meteorologist


As for the rest of the country, an El Nino winter could mean a wet and cool southern tier of the U.S.and a mild and dry northern half.

Now in South America, where farmers grow a lot of corn and soybeans like U-S farmers, El Nino would be good news.

"What the El Nino means for South America is more rainfall, but also less likelihood of drought," says Mark Brusberg, USDA Meteorologist. "So we see a less of a likelihood of drought in southern Brazil, which could impact corn and soybeans in that country."

But if there is no El Nino, USDA meteorologists say all bets are off and winter weather will be hard to predict.
"The events that make winter memorable, such as big snowstorms, depend on conditions in the atmosphere that are just not predictable on timescales beyond a week or two," says Mike Halpert, acting director of NOAA's Climate Prediction Center. Read more.
For the near-term, USDA says rain and snow showers will linger through mid-week from the Great Lakes States into the Northeast. Meanwhile, a new storm system taking shape over the western U.S. will reach the southern Plains by Wednesday. That storm will cross the Southeast by week's end, leading to storm-total rainfall of 1 to 3 inches in some locations from eastern Texas to the Carolinas.
Farther west, the last in a series of Pacific storms will arrive in northern California on Friday. Five-day precipitation totals could reach 2 to 4 inches in parts of northern California and the Pacific Northwest. Elsewhere, bitterly cold weather will remain at bay through week's end, with temperatures gradually rising to above-normal levels throughout the northern U.S.
The National Weather Service's outlook for Dec. 21-25 calls for near- to above-normal temperatures nationwide, except for cooler-than-normal conditions across the lower Southeast. Meanwhile, above-normal precipitation throughout the northern and eastern U.S. will contrast with drier-than-normal weather in California and environs.
As you prepare for winter weather, use this helpful Winter Lingo Guide to know what weather is really heading your way. 
Read and watch more Top Producer Power Hour news and videos.