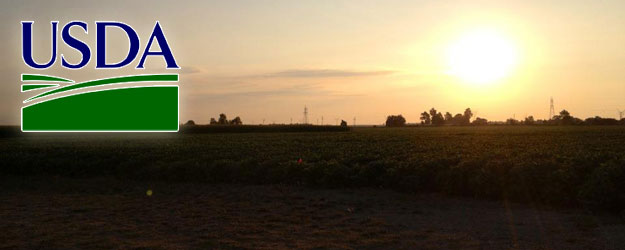 The department's recent 10-year forecast provides basis for comparison.
All eyes and ears will be peeled on the USDA' Agricultural Outlook Forum Outlook this week for signs that the department may deviate from its recently released 10-year outlook for crops and livestock.

Traders, in particular, will be looking for indications that production and ending stocks for corn and soybeans could finish higher than forecasted for the 2014/15 growing season. Prices for most grains, of course, are already low compared to a year ago, and evidence of greater-than expected production could push them even lower.
Corn Projections
USDA's 10-year forecast for corn calls for 93.5 million acres in 2014/15, down from last year's 95.3 million acres. The number reflects a shift away from corn to other grains due to a big decline in corn prices. However, last year late spring rains prevented farmers from planting a lot of ground in northern Iowa and southern Minnesota, ground that may be sown this year.

Another big question is how much acreage will come out of the Conservation Reserve Program. USDA, at last report, expects more than 1 million acres to come out of CRP this year. It forecasts that enrollments will decline to 26 million acres in 2014 before rising back to close to 32 million acres by the end of the projection period.

Analysts expect the USDA to begin the year with a corn-yield forecast of 165.5 bu. per acre, the number used in its 10-year yield forecast. That would exceed the best year ever recorded. In 2009, farmers achieved a yield of 165.2 bu. per acre.

The industry has under-performed since then, largely due to the weather. Last year's yield, 158.8 bu. per acre, would have been higher if not for late spring rains and continued drought conditions in some regions. The year before, extreme drought conditions in much of the Corn Belt depressed yields to only 123.4 bu. per acre.

The combination of yields and planting puts leaves USDA with a baseline projection of 14.26 billion bushels in corn production, with ending stocks of 2.6 billion. The question is whether those numbers could go even higher if more acres are planted than the USDA expects.
Soybean Projections
USDA Chief Economist Joseph Glauber indicated last week that his department's official 10-year baseline projection of 78 million soybean acres may be too low. USDA estimates that 76.5 million acres of soybeans were planted last year. Anecdotal evidence indicates that many farmers plan to swap corn for soybean acreage this year.

Moreover, USDA's 10-year forecast says projects that soybean plantings will remain near 78 million during the next decade. In seemingly contradictory fashion, it also says that "growth in both domestic use and export demand lead to increases in prices, allowing soybeans to compete with corn and other crops for land use."

Thanks to better seed technology and farming practices, the forecast calls for a projected increase in soybean yields this year; in the neighborhood of 45.2 bu. per acre, compared to the 43.0 bu. average harvested last year.

USDA's baseline report projects soybean projection of 3.5 billion bushels, with 203 million bushels in ending stocks. Many traders, and farmers, wonder whether both numbers may come in higher, given the pronounced shift from corn to soybeans.

Overall, the 10-year forecast predicts that farmers will plant fewer acres with grain over the next decade due to lower projected returns.

The forecast assumes that, while corn demand for ethanol will slow, demand for U.S. grain will be aided by world economic growth (population growth and per-capita income), a continued low-valued dollar, and expansion of world biofuel production.

Here are some other predictions from the 10-year forecast that may have a bearing on the conference:
Corn:
-- USDA projects corn prices will decline through 2015/16, with farm prices dropping to $3.65 during the 2014/15 crop year and $3.30 the following year. Moreover, they will remain below 2013/14 price levels for the next decade.
-- Only small growth is projected for corn-based ethanol production over the next 10 years, as gasoline producers hit the blend wall and gasoline consumption declines due to more fuel-efficient vehicles. "Nonetheless, a strong presence for ethanol in the sector continues, with about 35 percent of total corn use expected to go to ethanol production during the projection period," the department says.
-- Feed use is expected to increase as corn prices fall, more livestock is produced, and production of distillers grains slows, "as the corn-based ethanol expansion moderates," the report says.
-- U.S. corn exports will increase during the projection period in response to strong global demand for grain to feed livestock. Export gains should be particularly strong to China. Meanwhile, the United States will recover its position as the world's largest corn exporter, accounting for an average of about 40% of global corn trade over the projection period.
Soybeans:
-- Soybean prices fall from recent highs during the short term but then rise moderately after 2015/16, reflecting strengthening demand for soybeans and soybean products.
-- As growth in meat production resumes, and production of distillers grains and canola meal slows, "domestic demand for soybean meal and thus soybean crush is projected to grow in the coming decade," the report says.
-- Strong global demand, especially from China, will boost soybean's cause during the next decade. China accounts for all of the increase in world soybean imports in the USDA's model.

-- U.S. share of world exports will decline slightly, from 38% in 2013/14 to about 32% in 2023/24, due to competition from South America. "Brazil continues to be the largest exporter of soybeans," USDA projects.
Wheat
-- Wheat prices will decline through 2016/17, under USDA's scenario, reflecting rising wheat stocks and falling corn prices. It estimates that farm prices will average $4.90 in 2014/15, compared to $7 the year before. Prices never recover during the next decade, rising to only $5.50 by 2023/24.
-- USDA projects that planted acres of wheat will increase from 56.2 million acres to 57 million acres this marketing year, with yields declining from 47.1 bu. per acre to 45.8.
-- Total production, at 2.22 billion bushels, will exceed last year's production but won't equal output from two years ago. Ending stocks will increase, though at 642 million bushels won't be as large as they were in 2012/13.
-- U.S. imports of wheat are projected to rise through the projection period due to increases from Canada.
Cotton
-- USDA projects that planting of upland cotton will increase by a million acres in 2014 to 11 million "as prices for competing crops fall more than do cotton prices," USDA says.
-- It expects that the industry will give back that gain in 2015, as acreage returns to 10 million acres "and remains near that level for the remainder of the projection period" and world and U.S. cotton prices fall below the recent 5-year average.
-- U.S. mill use of upland cotton is projected to rise moderately while cotton exports increase in the second half of the projections. U.S. upland cotton exports are projected to rise from 2013/14's low level to about 10.5 million bales for several years, before showing moderate additional growth over the remainder of the projections.
-- The United States remains the world's largest exporter of cotton, although the U.S. share of global cotton trade falls below 23% by the end of the projection period, compared to an average of more than 37% in 2000-2010. China is the world's largest importer of cotton.