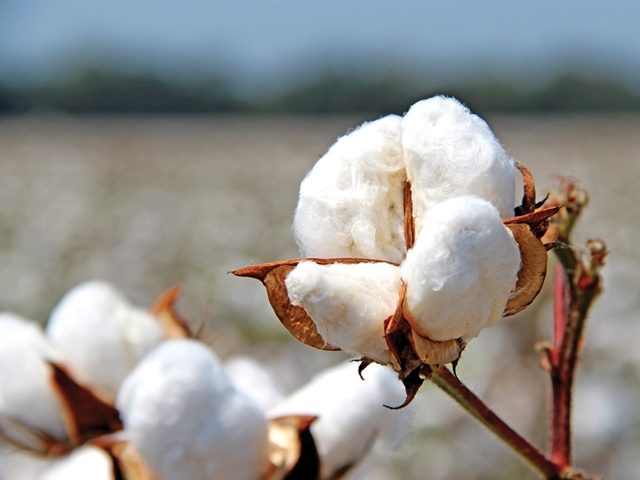 Cotton acres are climbing this year, with the U.S. Department of Agriculture (USDA) projecting acres to see a 21 percent jump. If that holds true, U.S. cotton farmers will plant 12.2 million all-cotton acres. In the Mississippi, cotton was once the staple crop, and this year, farmers are getting back into growing it in a big way.
"We will increase this year about 25 percent over last year, and last year we increased about 25 percent over the previous year," said Sledge Taylor, a farmer from Como, Miss. "We've increased almost 50 percent in two years."
Taylor expects to plant 3,500 acres of cotton this year. He's not the only one jumping back on the cotton train this year.
"The year prior, I was at zero (acres), last year I was at 3,000 (acres), and now I'm at 5,000 (acres)," said Tom Pitts, a farmer from Indianolo, Miss.
National Cotton Council's (NCC) February planting intentions survey showed the largest spike in acreage will show up in the West, with Kansas seeing a 42 percent bump over last year.
"They're coming off 25,000 to 30,000 acres, they may go up to as high as 50,000," said Gary Adams, CEO of NCC. "Oklahoma is a little different story, because they plant a couple hundred thousand acres, and some of those might be adding to 300,000 or more acres planted this year."
Price is part of the equation, enticing farmers to plant more cotton, but with prices sitting in the low to mid-70s, profits aren't plentiful.
"This year, competing crops like corn, the price of corn is so low and going lower every day, that I don't want to grow much corn at all," said Taylor. "While the price of cotton has gone up a little bit, it's still not a driving factor, but it's the lesser of all the evils."
"Looking at USDA projections, it still shows that with current futures prices, we're still not covering full cost of production," said Jody Campiche, vice president of economics with NCC. "We're covering variable costs but there's still a missing component there."
What is the main driver of such a huge leap in acres? Growers say it's last year's phenomenal yields parked in their mind.
"Our yields were the best yields that we've ever made," said Taylor. "With the new varieties, we're making phenomenal yields. The quality this past year with some of the newest varieties, the quality was outstanding, so that's part of it."
Higher yields and an acreage bump are giving new life to the industry, but much of that hinges on strong demand. It's that demand that's been the shining star this year, helping support cotton prices see a 10 cent run since January.
"We're seeing strong demand for U.S. cotton right now," said Adams. "The export pace is good. Vietnam is in the market. China is in the market. We're not seeing a lot of competition, so I do think there's some opportunities right now with the market strengthening."
China hasn't been a big buyer of U.S. cotton this year, but those tides are starting to turn.
"In 2016, China sold almost 12 million bales from their reserves," said Campiche. "Their reserve auction was much more successful than anyone anticipated. Looking to 2017, they started their auction series in March, so far they had a really good uptake in beginning, it slowed down a little bit, there are some concerns about the quality of the crop, but if China has another successful auction series this year, that could really put them in position the next few years to become a large importer again."
She thinks that's something that could hit the market as early as 2018, but until then, the focus is on 2017. While prices are better, there are fears it won't last.
"The caution I would give producers is that as they look at these prices, it's encouraging planting," said Adams. "If it's a good enough price to plant, then think about pricing a portion of your expected production at these prices, as well, because if weather cooperates, we have another 17 to 17.5 million bale crop, and other countries increase production, I worry that there could be some price pressure as we get into the fall."
For Taylor, the price and acreage story around cotton is growing excitement in his small-town, and he's striving for an encore to 2016, reviving hope that cotton can be king in these Mississippi fields once again.