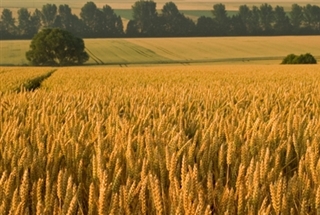 Wheat climbed for a third day on concerns that dry conditions in parts of the Black Sea region may damage crops. Corn and soybeans retreated.
The contract for March delivery rose as much as 0.6 percent to $5.57 a bushel on the Chicago Board of Trade and was at $5.545 by 10:58 a.m. in Singapore. Prices fell 1.6 percent last week, trimming November's gain which would be a second-straight monthly advance.
Below or well-below normal rain since July probably curbed winter-wheat development in south Russia and the Volga valley, forecaster DTN said Nov. 21. Generous spring rain will be needed to prevent significant declines to yield potential and poorly established wheat may be more susceptible to winterkill if there is not enough snow cover, it said. Russia was the fifth-biggest exporter in 2013-2014, U.S. Department of Agriculture data show.
"Global wheat markets continue to respond to Northern Hemisphere weather concerns," Rabobank International analysts led by Luke Chandler, wrote in an e-mailed report today. "Of particular interest are growing conditions across the Black Sea region which to date have been cooler and drier than ideal."
Soybeans for January delivery fell 0.4 percent to $10.345 a bushel. Corn for delivery in March lost 0.3 percent to $3.8425 a bushel.