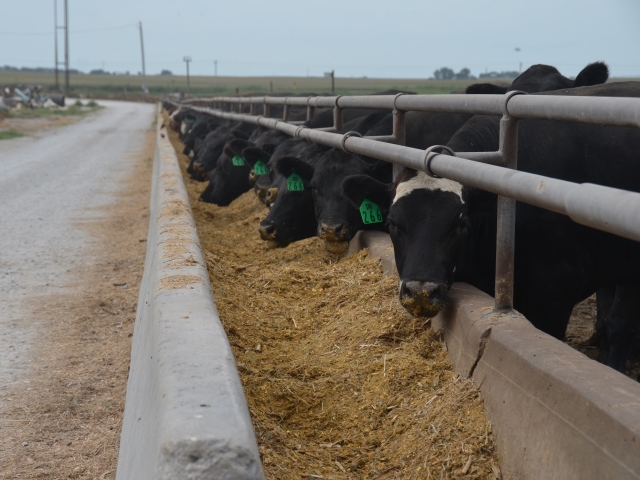 To understand one of the main reasons why wheat producers are having such a tough time, talk to Oklahoma cattle feeder Hitch Enterprises Inc.
The closely held company has the capacity to feed 90,000 cattle and raise 300,000 hogs annually, and would normally be in the market to buy wheat. But it hasn't bought any of the grain in four years, choosing to stick with corn instead.
"We were looking at wheat substitution in June and then corn prices fell and we bought up more corn," Tommy Tomlinson, the company's 71-year-old vice president of procurement, said in an interview.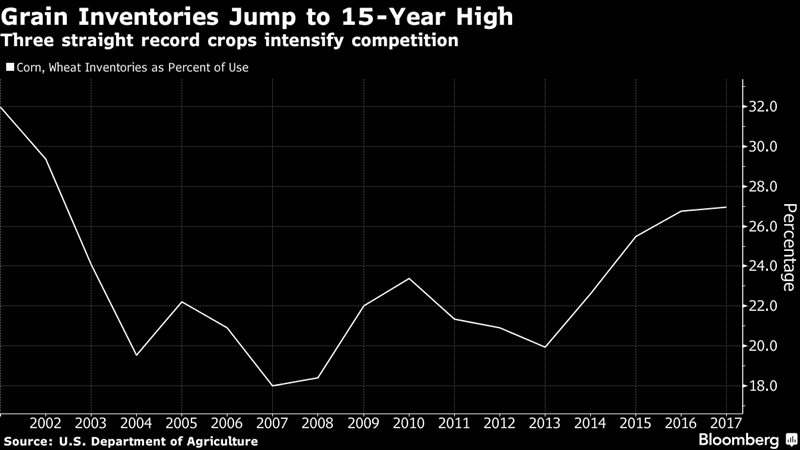 Simply put, the world has too much wheat. U.S. sellers of the low-quality and soft red variety are struggling to displace foreign wheat supplies in global markets, and they aren't making much headway selling it as animal feed either, with an imminent U.S. corn harvest that's expected to be the biggest ever. Some storage capacity is already filled and merchandisers are building temporary ground piles.
USDA Estimates
The extent of the problem is likely to be reinforced Friday when the U.S. Department of Agriculture publishes its latest quarterly crop-stockpile estimates. Traders surveyed by Bloomberg expect the USDA to say wheat inventories on Sept. 1 -- that is, three months into the wheat marketing year -- were 2.442 billion bushels. That's 16 percent higher than a year earlier and the most since 2010. The agency's survey is conducted though the first two weeks of September and covers 75,000 farms plus all domestic commercial grain-storage facilities. U.S. wheat output may be revised up to an eight-year high of 2.323 billion bushels, a separate survey showed.
Wheat for December delivery was up 0.7 percent to $4.06 a bushel at 5:45 a.m. in Chicago. The most-active futures price has dropped 14 percent in 2016 and hit a decade low at the end of August. That, and the price decline posted by corn, has helped to stall a broader rally in commodity markets. The Bloomberg Commodity Index, up 13 percent in the first six months of 2016, has since retreated 4.1 percent.
"We are back in a bear market scenario where supply exceeds demand," said Jim Banachowski, a vice president and general manager at The Andersons Inc., a grain merchandiser based in Maumee, Ohio.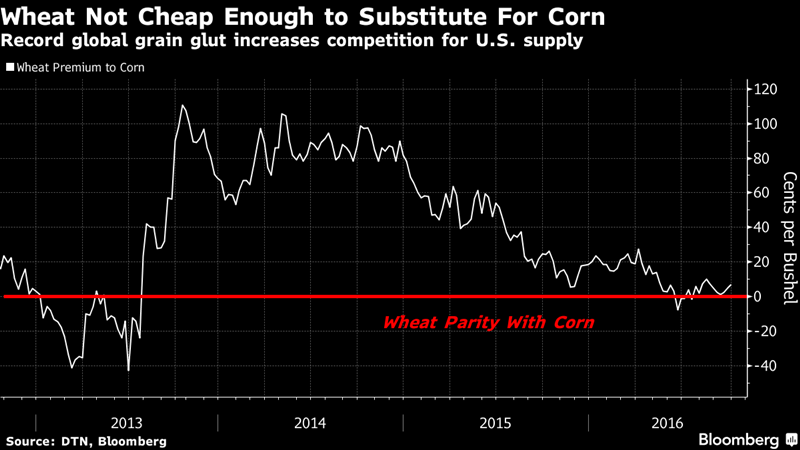 Like many commodities, wheat is a victim of a long-gone boom. Those high prices seen several years ago helped to open up a lot of land to production, Banachowski said.
That expansion of acreage has eased in the U.S. after three years of declining prices, with farmers switching to other crops. Yet the impact of that trend has been offset by favorable weather boosting wheat yields to their highest ever. World inventories before the 2017 harvest will rise to a third straight record, with U.S. stockpiles poised to jump to the most since 1988, according to the USDA.
Russia will retain the title as the world's largest exporter for a second straight year. It announced Wednesday that export taxes will be cut to zero through July 2018 to encourage shipments. The success of Russian grain in the latest tender held by Egypt, the world's largest buyer, shows how the country's grain continues to be competitive on international markets.
U.S. sales of wheat in the first 16 weeks of the marketing year are up 23 percent from a year ago, USDA data show. Still, total sales commitments represent 52 percent of annual shipments, down from 56 percent a year earlier and also trailing the five-year average.
U.S. Plantings
U.S. growers probably will cut wheat plantings next season by as much as 3 million acres, which would mean the lowest sowings since USDA data began in 1919, said Chuck Elsea, senior vice president at grain supplier The Scoular Co. in Salina, Kansas. That also means farmers in 2017 will probably plant more soybeans, even as U.S. farmers are predicted to harvest a third straight record crop this year.
Scoular grain terminals in Kansas already had a third of their temporary grain storage filled with wheat before the start of the corn and soybean harvests, something that's never happened in the 35 years Elsea has been buying grain.
"I've never seen storage-space issues as acute as they are now," Elsea said. "The oversupply issue will last until there is a weather event somewhere in the world to reduce supply. We are the residual wheat supplier to the world markets."