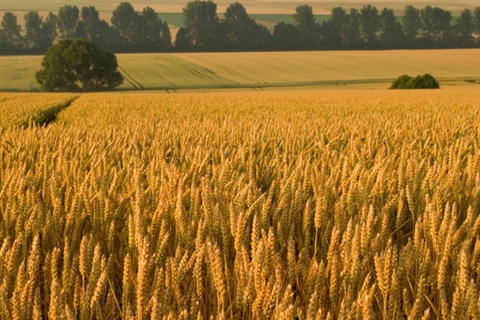 Wheat rose in Chicago amid concerns that cold weather in Russia will damage recently planted crops that haven't yet entered winter dormancy.
Temperatures today were expected to reach lows of 18 degrees Fahrenheit (minus 8 degrees Celsius) in Moscow and Volgograd, and may remain below freezing during the weekend, according to AccuWeather Inc. Dry weather in some parts of Russia has eroded crop conditions and left young plants more susceptible to frost, Commerzbank said in a report today.
"A cold spell is gradually expanding on the European half of the Black Sea basin, which is home to most of the winter crops," Paris-based farm adviser Agritel said in an online report. "The arrival of this climate makes producers worry."
Wheat for December delivery rose 0.4 percent to $5.2425 a bushel at 5:20 a.m. on the Chicago Board of Trade, erasing an earlier decline. Prices touched $5.2875 a bushel yesterday, the highest since Sept. 10. In Paris, milling wheat for January delivery fell 0.3 percent to 168.50 euros ($213.59) a metric ton on Euronext, after rising 3.4 percent the previous two days.
Corn for December delivery increased 0.4 percent to $3.545 a bushel in Chicago. Soybeans for November delivery added 0.4 percent to $9.6625 a bushel. Both crops increased this month as rain slowed harvesting in the U.S., the world's biggest grower.
Parts of the Midwest may see scattered showers today with totals of as much as 0.25 inch (0.6 centimeter), AccuWeather said. Weather conditions still will be mostly favorable for harvesting, DTN said yesterday.