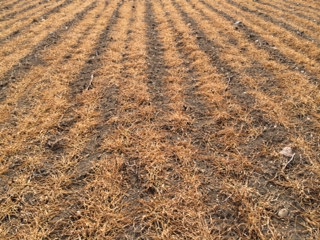 Wheat advanced to trade near an 11- week high as investors weighed the outlook for the Australian harvest that began last month and concerns freezing temperatures in parts of the U.S. may damage crops.
The contract for March delivery rose as much as 0.4 percent to $5.6475 a bushel on the Chicago Board of Trade and was at $5.645 by 10:54 a.m. in Singapore. Futures reached $5.675 on Nov. 14, the highest since Aug. 29, before closing the week up 9.4 percent for the biggest gain since the period to July 20, 2012.
Western Australia's wheat crop, the country's biggest, may be 1.9 percent less than estimated in October after storms last month, the Grain Industry Association of Western Australia said this month. GrainCorp Ltd., eastern Australia's largest grain handler, said last week that it expects a below-average harvest. In the U.S., continued cold temperatures will push wheat further into dormancy in most areas of the Midwest and stall remaining planting, MDA Weather Services said Nov. 14.
"The prospect of a weaker Australian harvest as rains damaged quality in some areas and yields disappointed in others" boosted prices, Australia & New Zealand Banking Group Ltd. said in an e-mailed note today. "Cold conditions in the U.S. have also raised fears of winter-kill in the newly planted winter wheat crop."
Australia's harvest may total 23.2 million metric tons, according to the median of five analysts and trader estimates compiled by Bloomberg last month. That compares with 24.2 million tons forecast by the government in September and 27 million tons reaped a year earlier. The U.S. was the world's top exporter in 2013-2014 and Australia was the fourth-biggest, U.S. Department of Agriculture data show.
Soybeans for January delivery climbed as much as 1.1 percent to $10.335 a bushel and traded at $10.275. Prices tumbled 2.9 percent on Nov. 14, the biggest drop since June 30. Corn for delivery in March rose 0.1 percent to $3.9475 a bushel.