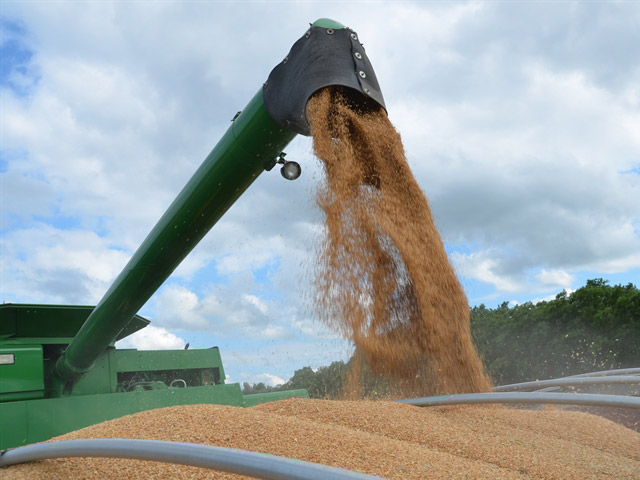 Wheat fell to the lowest level in nine sessions, poised to break five weeks of gains, amid an outlook for record global production and as U.S. weekly export sales were less than expected.
U.S. wheat export sales fell to 265,796 metric tons in the seven days through Oct. 30 from 459,111 tons a week earlier, the U.S. Department of Agriculture reported yesterday. Expectations had ranged from 325,000 to 525,000 tons, according to Paul Georgy, the president of Allendale Inc.
Wheat for December delivery fell 0.9 percent to $5.155 a bushel on the Chicago Board of Trade by 5:02 a.m., dropping for a fourth day to trade at the lowest since Oct. 27. Futures are set to retreat 3.2 percent this week to end the longest run of weekly gains since October 2013.
"Disappointing weekly U.S. export data pulled the wheat complex lower as sales were below estimates, down almost 40 percent compared to last week," U.K. grain trader Gleadell Agriculture Ltd. wrote in market comment today.
Milling wheat for January delivery traded on Euronext in Paris fell 0.4 percent to 170.25 euros ($211). European Union soft-wheat export licenses in the seven days through Nov. 4 fell 29 percent from a week earlier to 517,290 tons, with the total since July 1 a record 10.31 million tons from 9.43 million tons a year earlier.
A strengthening U.S. dollar "is having continued downward pressure over U.S. wheat sales, effectively pricing them out of traditional markets such as Egypt," AWB, a unit of Cargill Australia Ltd., wrote in a note today. The dollar has advanced 11 percent against the euro since the start of the year.
Grain Stockpiles
World grain stockpiles are forecast to climb 8 percent to 624.7 million tons at the end of 2014-15, the highest in 15 years, according to the United Nations' Food & Agriculture Organization. That will weigh on wheat and corn prices throughout the season, according to Abdolreza Abbassian, senior economist at the FAO.
The FAO lifted its outlook for global wheat production by 4.1 million tons from a month ago to 722.6 million tons, the highest ever.
Corn for delivery in December fell 0.5 percent to $3.6925 a bushel in Chicago, headed for a 2 percent drop this week. Soybeans for January delivery gained 0.3 percent to $10.31 a bushel, trimming the weekly loss to 1.7 percent, the first such drop in six weeks.
U.S. farmers may gather 3.969 billion bushels of soybeans and 14.556 billion bushels of corn this year, topping USDA estimates for 3.927 billion and 14.475 billion bushels, a Bloomberg survey of 26 analysts and traders showed. The USDA is set to update its projections on Nov. 10.