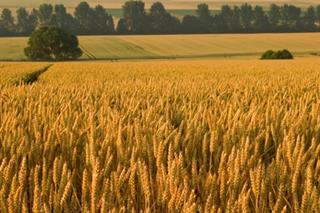 Wheat fell to the lowest in more than four years on expectations that global output will rise to a record. Corn and soybeans traded near the lowest since 2010.
World wheat production will rise to 719.95 million metric tons, the highest ever, the U.S. Department of Agriculture said Sept. 11. Corn and soybean harvests also will reach records, the agency predicts. Increasing supplies of crops are helping cut global food prices, with a United Nations' index slumping to an almost four-year low last month, the UN's Food & Agriculture Organization said Sept. 11.
"The anticipation of a record global wheat crop and expectations of record U.S. corn and soybean production through the 2014-2015 season are weighing heavily on global grains prices," Rabobank International analysts including Luke Chandler in Sydney said in a report e-mailed today.
Wheat for December delivery fell 1.2 percent to $4.965 a bushel at 4:52 a.m. on the Chicago Board of Trade, dropping below $5 a bushel for the first time since July 2010. In Paris, milling wheat for November delivery declined 0.8 percent to 161.50 euros ($209) a ton on Euronext, down 21 percent this year.
Corn for December delivery fell 0.7 percent to $3.3625 a bushel. Earlier today, the price touched $3.3575, matching the intraday level on Sept. 11 that was the lowest for a most-active contract since June 2010. Soybeans for delivery in November dropped 0.4 percent to $9.8125 a bushel. Prices touched $9.695 on Sept. 11, the lowest since July 2010.
U.S. farmers will collect a record 14.395 billion bushels of corn, while the soybean harvest will climb to an all-time high at 3.913 billion bushels, the USDA said Sept. 11. The U.S. is the biggest grower of both crops. Prices also fell today amid speculation that cold weather in some areas of the U.S. this weekend didn't cause significant damage to crops.
"The market certainly is not dismayed by the marginal frosts that have occurred," economist Dennis Gartman wrote in his daily Gartman Letter. "Any damage to the crops in question has been minimal, if there has been any at all."