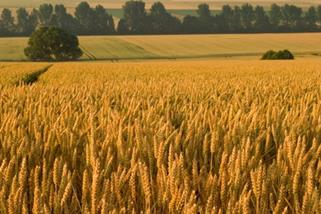 Wheat slid to near the lowest level in four years on expectations that global production will climb to a record. Corn fell for a second day as farmers in the U.S., the top grower, start to harvest the biggest crop ever.
World wheat output will rise to a record 719.95 million metric tons in 2014-15, while corn production may advance to an all-time high 987.5 million tons, the U.S. Department of Agriculture forecasts. Increasing supplies are helping cut global food prices, with a United Nations' index slumping to an almost four-year low in August.
Wheat for December delivery retreated 1 percent to $4.9425 a bushel on the Chicago Board of Trade by 7:43 a.m. Prices fell to $4.91 on Sept. 16, the lowest for a most-active contract since July 2010. Milling wheat for November delivery slid 0.6 percent to 160.50 euros ($206.64) a ton on Euronext in Paris.
"The harvests are under way and the reports from the fields are of abundance, not shortage," economist Dennis Gartman wrote in his daily newsletter. "Simply put, the world is awash in grains."
Chicago wheat futures tumbled 24 percent in the past year as the USDA forecast record crops. Corn dropped 26 percent in the period and soybeans slumped 27 percent as U.S. output reaches all-time highs, according to the USDA.
Futures trading volume was 53 percent lower than the average for the past 100 days for this time of day, according to data compiled by Bloomberg.
"There's just so much of it," said Jonathan Barratt, chief investment officer at Ayers Alliance Securities in Sydney, referring to wheat. "It doesn't look pretty for the price of wheat, or corn, when you know you're having record yields."
U.S. farmers will collect 14.395 billion bushels of corn, while the soybean harvest will climb to 3.913 billion bushels, the USDA said Sept. 11. U.S. corn yields will total 171.7 bushels an acre, up from an August estimate of 167.4, it said.
Corn for December delivery declined 0.7 percent to $3.395 a bushel. Soybeans for delivery in November declined 0.2 percent to $9.8025 a bushel.