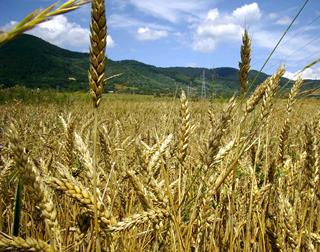 Wheat extended declines to a four- year low in Chicago and Paris amid prospects of record global crops and decreasing demand for supplies from the U.S., the world's biggest exporter.
Farmers worldwide will harvest a record 719.95 million metric tons of wheat, helping boost global stockpiles to a three-year high, the U.S. Department of Agriculture estimated Sept. 11. U.S. exporters sold 314,532 tons of wheat in the week ended Sept. 11, less than half the amount a week earlier, the USDA said yesterday.
"Wheat prices have fallen to a fresh four-year low on weak U.S. export prospects and rising global supplies," David Sheppard, a managing director at Gainsborough, England-based Gleadell Agriculture Ltd., said in an e-mailed note today. "The bearish stocks outlook in last week's USDA report has followed through this week as traders digest the glut of coarse grains available in the 2014-15 season."
Wheat for December delivery fell 1 percent to $4.835 a bushel at 6:48 a.m. on the Chicago Board of Trade, the lowest for a most-active contract since July 2010. The grain is set to drop 3.8 percent this week.
Milling wheat for November delivery in Paris fell 2.2 percent to 155.50 euros ($200) a ton on Euronext, also the lowest since July 2010.
Soybeans for November delivery fell 0.6 percent to $9.655 a bushel, after touching $9.64, the lowest since July 2010. Prices are set to drop for a sixth week in the longest such run in more than four years. Corn for delivery in December slipped 0.4 percent to $3.37 a bushel, trading near a four-year low of $3.3575 set on Sept. 11, and poised to retreat for a fifth straight week.
Wheat tumbled 26 percent in the past year as corn plunged 27 percent and soybeans slumped 28 percent on the outlook for surging global supplies. U.S. farmers, the world's biggest corn and soybean producers, may harvest record amounts of both crops this year, totaling 14.395 billion bushels and 3.913 billion bushels, respectively, the USDA said Sept. 11.