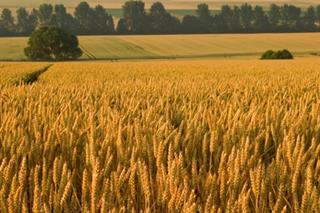 Wheat farmers in the U.K., the European Union's third-biggest producer, may delay winter-crop planting after the driest September on record, said Jack Watts, an analyst at the Agriculture & Horticulture Development Board.
The U.K. had 19.4 millimeters (0.8 inch) of rain this month through Sept. 28, 20 percent of the amount that usually falls in September, the Met Office said today in an online report. The country is poised for the driest September since records began in 1910, it said. U.K. farmers usually start planting winter varieties of wheat in October. The grain goes dormant over winter and is harvested in July and August.
Wheat production from the harvest that just finished rose for the first time in three seasons, as excess rain in prior years swamped fields and prevented farmers from planting. While dry weather now would allow fieldwork to progress for the next crop, farmers may be wary of planting because some moisture is still needed to help seeds germinate and young plants to emerge from the soil, Watts, a lead analyst at AHDB's grain unit, said by phone today from Kenilworth, England.
"Some farmers may be facing the dilemma of it being too dry to get crops established, so they may wait a little bit later to get a little more rain before they get into the biggest part of the planting campaign," Watts said. "It's still a welcome break from what we've been used to in recent years when we've had problems with it being too wet."
U.K. farmers usually try to finish planting winter wheat by the end of November, so there's still time for rain to arrive. While sowing can continue in January and February if weather issues prevent earlier fieldwork, later-planted crops are at risk of lower yields, Watts said.
U.K. farmers harvested 16.58 million metric tons of wheat in 2014, 39 percent more than the prior season, which was affected by excess rain, according to estimates from ADM Germany. France and Germany are the largest producers. A U.K. crop of that size would be the biggest since 2008, based on data from the Department for Environment, Food & Rural Affairs, which hasn't released an estimate yet for 2014.