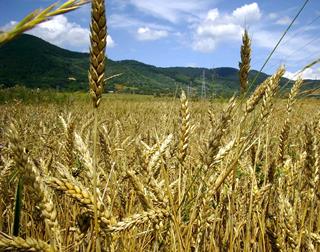 Russia's largest grain growers will maintain production even as U.S. and European Union economic sanctions raise costs, according to the head of billionaire Oleg Deripaska's agricultural business.
Deripaska's OOO Upravlayushaya Kompaniya Agroholding Kuban will probably sow the same amount of seed for next year's crop, Andrey Oleynik, managing director of agribusiness at Deripaska's Basic Element holding company, wrote in an e-mail yesterday. Russia's wheat crop will be the biggest in five years this season, the U.S. Department of Agriculture estimates.
Sanctions imposed on Russia because of the conflict in Ukraine are constricting lending and raising borrowing costs. State-controlled banks including Russia's biggest farm lenders, Russian Agricultural Bank and OAO Sberbank, issued 125 billion rubles ($3.3 billion) to farmers this year, government data show. Interest costs on loans will be 15.5 percent to 17.5 percent next month, up about 1.5 percentage points from now, Oleynik said in an interview Sept. 2.
"Large companies have some financial cushion," Oleynik said from Moscow. "They will maintain their present condition. I don't think large companies will cut back on production."
Russian Agriculture Bank "insignificantly" raised the interest rates it charges on loans to small businesses at the end of August, the company said in response to questions. Sberbank officials didn't immediately respond to a phone call and an e-mail seeking comment about its rates and loans.
Agriculture Ministry
Russian farmers will produce 59 million metric tons of wheat in the 12 months through June 30, the most since the 2009-10 season, USDA data show. Last month, the country shipped a record 4.7 million tons of grain, according to Agriculture Ministry data.
SovEcon, a Moscow-based researcher, this week raised its estimate of Russia's wheat crop to 60 million tons. Agroholding Kuban produced 211,000 tons of the grain, Oleynik said.
World wheat production will be a record 719.9 million tons in 2014-15, 0.8 percent higher than a year earlier, the USDA forecasts. Benchmark futures traded in Chicago dropped 18 percent this year.
Some shippers tried to boost sales to beat any backlash from sanctions, said Andrey Sizov, SovEcon managing director. Russia also shipped more to replace lower-quality grain from France, the third-largest wheat exporter, Sizov said.
Subsidies to farmers should be increased if Russia wants to grow more grain, Oleynik said. Russia will spend 121.6 billion rubles to support agricultural this year, according to government data.
Higher costs will force smaller farmers to reduce output or go out of business, according to Oleynik. Small producers accounted for about 25 percent of the country grain harvest last year, Russian government data show.
Nikolai Smotrov, a farmer with 300 hectares (740 acres) in the Tula region south of Moscow, won't be expanding this year because of higher costs for loans, fertilizers, fuel and pesticides. He boosted wheat plantings by 50 hectares in 2013.
"Prices for everything are going up," he said. "If the interest rates do the same, it will be a total mess."