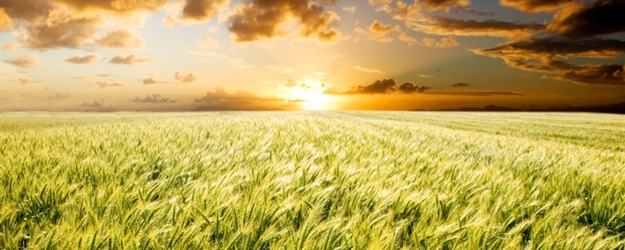 (Bloomberg) -- Wheat production in Australia will increase as acreage expands and yields recover, helping the country to boost shipments while the global harvest contracts, according to the nation's agricultural commodities forecaster.
Output in the fifth-biggest exporter may total 24.4 million metric tons in 2015-2016 from 23.6 million tons a year earlier, the Australian Bureau of Agricultural & Resource Economics & Sciences said in a report, giving the first estimate for the crop to be planted from next month. Exports may rise to 17.95 million tons in the year starting July 1 from 16.9 million tons, the bureau said. Global output will drop 1.8 percent, it said.
Wheat lost 15 percent this year, extending a back-to-back annual slump, as global supplies expanded. Record global grain output will boost inventories at the end of 2014-2015 to the highest in about 30 years, the International Grains Council estimated. While the ample stockpiles will cap rallies in coming months, possible challenges to new-crop supply may support prices through the fourth quarter, Rabobank International said.
"Seasonal conditions will be the most crucial factor," Jammie Penm, chief commodity analyst at Abares, said in a phone interview. "If soil moisture is sufficient, then farmers can plant what they plan and to-schedule. Even if soil moisture is unfavorable farmers can still plant, and hope for in-crop rain."
Australian farmers may plant 13.89 million hectares (34.3 million acres), up 0.6 percent from a year earlier, the Canberra-based bureau estimated. Output will also be boosted on expectations that yields in eastern Australia will rebound from below-average last year it said.
Global Crop
Global output may fall to 707 million tons in 2015-2016 from 720 million tons a year earlier as a drop in yields offsets a rise in area, according to Abares. That compares with 705 million tons predicted in February by the London-based IGC. World output reached a record 725.03 million tons in 2014-2015, according to the U.S. Department of Agriculture.
The price at U.S. Gulf ports of hard-red winter wheat, the most-exported variety, may average $265 a ton in the year starting July 1 from $270 a ton a year earlier, according to Abares. Uncertainty about the condition of Northern Hemisphere winter-wheat crops, which will soon emerge from dormancy, is a risk to the price outlook, the bureau said.
Global grain production, including wheat and coarse grains, will climb to a record 2.006 billion tons in 2014-2015, the IGC estimated. Reserves at the end of the season will be the biggest since the mid-1980s, it said Feb. 26.
Wheat for May delivery rose as much as 0.4 percent to $5.0175 a bushel on the Chicago Board of Trade and was at $5.00 at 10;10 a.m. in Singapore. The price rose 2 percent last month after losing 15 percent in January.
To contact the reporter on this story: Phoebe Sedgman in Melbourne at psedgman2@bloomberg.net To contact the editors responsible for this story: James Poole at jpoole4@bloomberg.net Jake Lloyd-Smith, Ovais Subhani