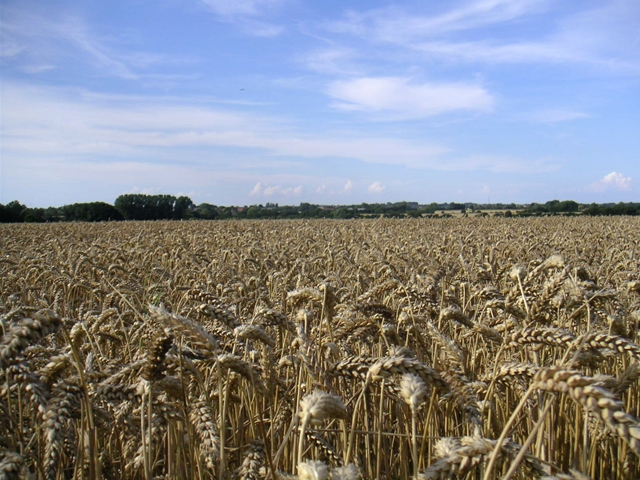 A more upbeat winter wheat crop forecast released Wednesday reflects plentiful rainfall this past month that has, for the most part, quenched a long drought.
This year's winter wheat production is now estimated at 314.5 million bushels in Kansas, the National Agricultural Statistics Service reported, well above the 272 million bushels forecast last month.
If the federal agency's predictions are realized, this year's harvest will be a vast improvement over last year's drought-plagued 246.4 million bushels — 28 percent more. The revised number also would bring Kansas closer to the 328 million bushels it has averaged in the past decade.
All that bodes well for the nation's largest wheat producing state as it gears up to harvest an estimated 8.5 million acres of winter wheat harvest this year.
In fields near the small south-central Kansas town of Kiowa, usually among the first places in the state to cut wheat each year, the local grain elevator reported Tuesday that it had already gotten its first six loads from a farmer who began cutting his crop on Monday. More farmers are expected to begin cutting in the coming days, said Brett Courson, assistant manager at OK Co-op Grain.
Custom harvesters who follow the ripening crops across the nation's wheat belt are headed to Kiowa, according to Tracy Zeorian, executive director of the industry group, U.S. Custom Harvesters.
The wheat crop ripens earlier in more southern states like Texas and Oklahoma, but last month's torrential rains made "a real mess for them down there," she said. The start of harvest in those states was delayed, and the wet conditions mired combines in muddy fields and hurt wheat quality there.
"We are going to have combines from Texas to Kansas all at the same time," Zeorian said.
But the government's updated crop estimate, based on crop conditions June 1 and an expected average yield throughout Kansas of 37 bushels per acres, reflects the benefits of critical rains that came as the wheat neared maturity.
This past May was the third wettest May since 1895, according to the Kansas Weather Data Library. Statewide, precipitation in Kansas averaged 7.73 inches, or 188 percent more than normal for the month.
That amount of precipitation is enough to pull Kansas out of a five-year drought, state climatologist Mary Knapp said in a news release. By the end of May, just 6 percent of Kansas was in a moderate drought, with 67 percent of the state drought-free, according to the U.S. Drought Monitor.
Only a month earlier, 91 percent of Kansas was listed as anywhere from abnormally dry to having some level of drought. And a year ago, virtually all of Kansas had at least abnormally dry conditions, with much of the state listed in exceptional drought conditions.
The government estimated the nation's wheat growers will harvest 1.51 billion bushels, up 2 percent from last month's forecast. U.S. production of hard red winter wheat, the type Kansas mostly grows, was pegged at 887 million bushels, up 4 percent from last month.
See how other farmers' fields are doing and share your own planting photos on AgWeb's Crop Comments page.